I can not imagine my life without water and swimming. Once I was engaged in this sport seriously enough. And now we regularly go with daughters to the pool and spend the summer at sea. It seems to me that in terms of effectiveness, this kind of physical activity can only be compared with running. I can especially advise you to do it to those who want to tighten the figure, reduce the volume and get rid of cellulite.
I love all sorts of tables on counting calories. So, after looking at the swimming data, I can tell you that in 30 minutes of intensive training you will burn 400 kcal! This is a lot. Another thing is that it is quite problematic for an unprepared person to cross a pool for a full half hour without a break. But I think that even if you move at a calm pace, but your classes will be regular, the effect will be.
Best sport
Recently, I was at the neurologist, and we talked about the most optimal sports for the modern person. So the doctor called it swimming in the first place among them. During classes, almost all the muscles in your body work, in addition to this, the cardiovascular, vegetative and lymphatic systems and immunity are strengthened.
And even when you swim, you, without knowing it, carry out massage of the most problematic places – the hips and abdomen. I checked it on myself. Usually, by the summer I'm gaining some weight, and the stomach starts to bulge, although I regularly shake my press. So, after the summer sea vacation without any exercises and diets, the stomach disappears, and the skin on the bottom and hips becomes smooth and beautiful.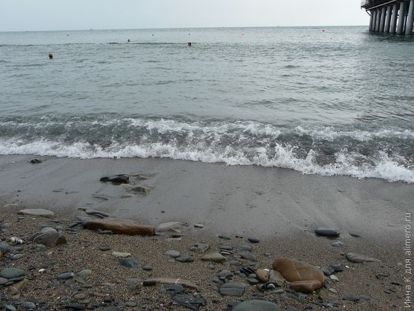 If you decide to enroll in the pool, I can tell you how I usually do. In the pool, the water temperature ranges from 26 to 28, I am so cold that it is too little for me. Therefore, the first thing I do is warm up, and at the same time I warm up – I swim 50-100 meters in the crawl. After that you can swim at a slower pace, usually a breaststroke.
By the way, breaststroke is considered the best style for getting rid of cellulite, because during the swims, the inner and lateral thighs are tightened. Another super exercise with a board. Take a board in your hands and swim only with your feet. With your feet, move as if with a crawl. It's really hard, try it!
After a workout it is useful to visit the sauna, if it is in the pool, and then after the shower, use anti-cellulite cream and make a small massage. Maybe there is no sense from these remedies, but in combination with massage they will not be superfluous after classes in water.
It seems to me that if you use the pool regularly, you will have no problems with cellulite J
Do you think swimming against cellulite helps?