I don't know whether consciousness determines existence, or consciousness determines existence, but if you want to expand the boundaries of your existence, you should pull each link and test for strength. This time I tried to break the usual limits of being. So, I, the Carpathian forests and Hoverla …
If you really want
3 months ago, when I learned about the Goverla Race, I firmly decided that I would go no matter what it was! A race of 16 km across the Carpathian Mountains is not a fucking muhra. This opportunity does not fall out every day and not even a month. Therefore, I immediately registered for the race.
True, at that time I still didn't know for certain where I could get money for the trip – at that time I had absolutely miserable incomes. But, nevertheless, when the time came, H, the necessary funds were found! The child was also able to securely attach for a couple of days, so that it was packaged to a minimum, feet in hands – and go!
Probably, it is not necessary to talk about the familiar to everyone (before the toothache) races on the nearest railway ticket offices in search of tickets, about buying a bus ticket with non-folding seats and natural air conditioning in the form of an open hatch. Che there, some 12 hours in the stifling heat – and you're almost there.
Almost, because it was necessary to go to the destination for another 3 hours by another bus, and from there another 8 km to stomp along the adjacent village and the territory of the reserve. You come to the place and you understand that the stories of the organizers about the living conditions, in general, are true, but still much worse. And it was better to grab a sleeping bag and a tent.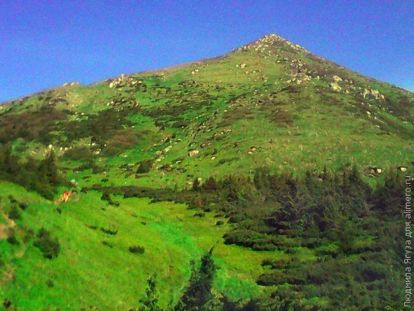 And here at the start
But I didn't come for convenience, did I? Once settled in a nearby house on a bed without a bed, at 7.30 in the morning I was with everyone at the start. I'll say right away that I didn't count on any spots or super-results. Of the two distances, I chose the longest and most complex. Mainly professional athletes and climbers ran along it, so I had nothing to argue with about them.
But purely for myself, I had accumulated impressions. Here to think logically – the race to the mountain. Or rather, even on two mountains: first to Petros, and from it a higher one – Hoverla. But for some reason, she still hoped that she was going to run. It was literally 800 meters. Then the road became steeper and steeper. And then running was impossible at all purely according to the laws of physics — it was making its way exclusively to nakarachka.
Having reached the first gearbox on Petros, I realized that my caviar was already crammed up. Soothed only that now have to go down. When I climbed to the top, these athletes and climbers from the mountain ran at a run. I do not know how they did not fall and did not roll head over heels – I did not dare to move my legs so quickly.
In general, when I came down, the muscles, which were opposed to the fact that they were working, were lifting me up. Also rubbed two toes. And Goverla was still waiting ahead …
There is a long, almost flat jumper between her and Petros – here I was able to really run, although it was not easy. Everywhere tiny streams flow down from the mountains, which turn the road into a continuous swamp. But the swamp is not a sheer cliff, so at least at this distance I could not look very carefully at my feet, but still enjoy the finest Carpathian landscapes.
The climb to Hoverla was not as steep as the previous one, but sooooo lingering. Everyone who had already finished the distance and descended was encouraging me. They promised that tea, cookies, apples, blackjack and … waiting for me up there … When I got out there on all fours, it turned out that only spring water remained of all that had been promised.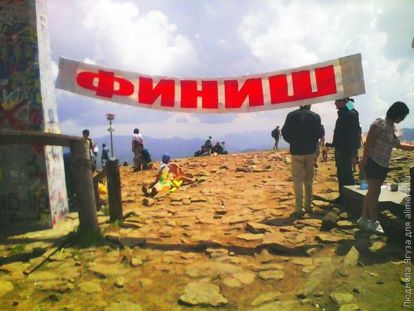 But at the very Goverle was a real farce. It turns out that we were climbing the most difficult part of the slope, and from the very easiest side there were crowds of tourists, who were taken to the foot by bus. In general, after enjoying the views, I started a long way back to the base.
That's it turned out to be the most difficult! Morally preparing for the same distance: 16 km from the base to Hoverla. And to return, you still need to tramp down 8 km from Hoverla to the base. In general, for seven and a half hours, practically nothing was eaten (some water and three oatmeal cookies on Petros), I covered 24 km over rough terrain.
What to say? Impressions are the strongest. Especially from the consequences – for a long time my legs weren't so heavy! Mountains are just a fairy tale! I would probably live there. Although, you still get used to civilization, and it pulls back to itself. But next year I will definitely repeat the race! Already as it should be with a tent and a sleeping bag.
How do you like such extreme rest?