I can not say that I am a real fan of the bath. Yes, sometimes you want to lie down and relax. But … I usually have everything on the run)) And if the shower is a daily procedure, then I have a full bath about once a week.
Another thing, if the bath is more significant. As, for example, salt. In my opinion, this is a combination of pleasant with useful!
Slimming salt
Very often talk about salt as a means for losing weight. Let's see why this is so? There are several factors:
– sea salt stimulates the blood flow to the skin, cleansing from toxins, removing excess fluid, filling it with nutrients
– under its influence the metabolism is accelerated (which is useful not only if you want to lose weight, but also to get rid of cellulite or to prevent it)
– salt baths remove not only physical, but also emotional stress, and the absence or elimination of stress is the best thing you can do to not gain weight
Natural sea salt contains a lot of useful components. The action of potassium and sodium is aimed at cleansing cells from decomposition products, magnesium – to activate cell metabolism, iodine – to excrete cholesterol and good metabolism, bromine – to calm the nervous system and healing effects on the skin.
Natural sea salt can be purchased at a regular pharmacy. The tool is inexpensive and will be affordable for everyone. Here is a bag of 1 kg in weight I buy for only 28 rubles.
If desired, you can buy salt with fillers – selenium, seaweed, extracts of sage, chamomile, oats, eucalyptus, etc. But this is not at all necessary, since The most basic and useful is already contained in natural sea salt.
How to pour salt in the bath?
Since the mineral composition of salt largely depends on the technology and the place of its production, the proportions of its dilution in water can vary.
But usually the method of application is painted in great detail on the packaging itself, so that it will not be necessary to puzzle over this issue.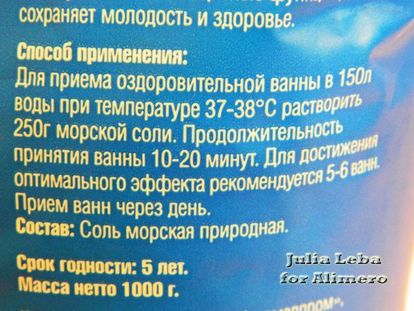 On the salt that I use now, it is indicated that for one bath (at the rate of 150 liters, it should not be fully recruited) 250 g is enough. On many sites they write the optimum dosage – 500 g per procedure. Well, there are other recommendations. So, for example, the main occultist of the 1st channel Gennady Malakhov advises to use for this purpose up to 3 kg!
As for my personal opinion, I, firstly, do not recommend listening to such inadequate personalities, as above, and secondly, I advise you to stick to the description made by the manufacturer. Excessive amount of salt in such a bath will cause flaking, irritation, and dry skin. I think this effect is not needed by anyone.
How to take a salt bath?
The optimum water temperature is 35-38'C. But you can experiment, reduce to 25-30 degrees. The result of a hot bath is relaxation, cool – toning. The main thing that you were comfortable. For myself, I experienced by choice 35-36'C.
Bathing should last at least 10 and not more than 20 minutes. Frequency – every other day or two days later. To achieve the result – from 6 to 15 procedures.
Should also remember Two important points:
1. The procedure should be carried out no earlier than 1.5-2 hours after eating;
2. The heart area must be above the water.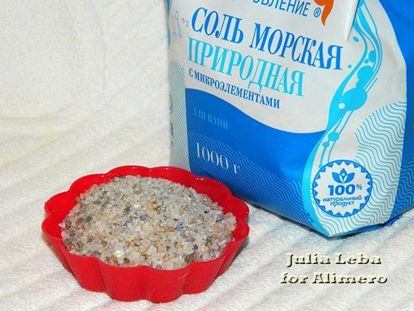 Who should not take a bath with sea salt?
Baths like any other active agent have contraindications:
– menstruation, any discharge
– phlebeurysm
– cardiovascular diseases, hypertension
– temperature (including subfebrile)
– any inflammatory processes
– the presence of alcohol in the blood at the time of admission (even in small quantities)
So, in addition to pleasure and relaxation, taking a salt bath, we improve the condition of our skin, stimulate metabolism. It is an excellent means for prevention against cellulite and for weight loss.
Here I will separately note that if you want to lose weight, you should not wait for a miracle effect only from the procedures. Of course, in parallel, a large role should be given to nutrition and physical activity. However, to enhance the result, after a bath, rub yourself thoroughly with a towel and lie down for about 30 minutes under a blanket.
And how do you feel about salt baths?