I decided to touch on the controversial topic of strength training for girls. I always hear around me that girls can not lift weights, train with heavy weights and in general, do not go to the gym. Around me, more than half of people believe that strength training for girls is evil.
Should girls be engaged in strength training
I agree that a too-powerful figure does not decorate a girl and makes her masculine. For me, the ideal of the female body is a sports figure with good muscle relief and without a gram of fat. Here is the question of how not to pump the body and not to harm health.
What do I usually hear from others when they find out that I work out in the gym:
– you will become like scary female bodybuilders (to become like them, you must live in the gym and drink a lot of chemistry)
– you will have a lot of diseases, from uterus prolapse to back problems (I think, if you do the exercises correctly, these problems can be avoided)
– you will have ugly hands with prominent veins (here I agree, but, for me, it is better to let the veins protrude than to hang fat on the triceps)
How to choose a middle ground when choosing a weight
For myself, I derived the maximum weights with which I can work, without harming myself and loading enough muscle. I alternate training: I lift a lot of weight with a small number of approaches and a small weight with a large number of approaches. This training option does not relax the muscles, and it loads them well.
For me, the training failed when the next day I did not feel pain in my body. Frankly, I do not know whether this is good or bad from a medical point of view. I listen to my body, it does not bring me discomfort. I think we can talk about serious consequences for health, when girls actually lift heavy weights and take various drugs to increase muscle.
Everything is good in moderation ). What is the point of going to the gym, lifting dumbbells 1-2 kg? If you are afraid to gain muscle mass (I repeat it is impossible to do, if you do not do 2-3 hours a day), then choose another type of fitness.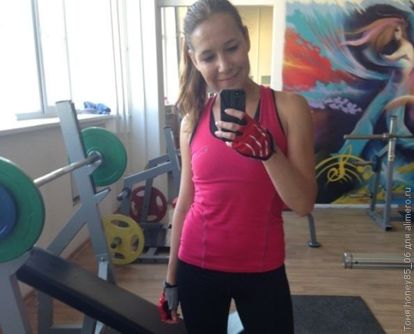 Maybe I'm too categorical. Girls, is there anyone among you who criticizes the gym? It is interesting to listen to other points of view.