Sometime earlier, my husband and I did not eat semi-finished products very often. Though in the freezer there was always a pack of pancakes, sausages or dumplings. Sometimes all of the above.
Due to the fact that the husband cooks more often, he usually decided what to buy: a piece of meat or a kilogram of sausages. More often the choice fell on the first category.
In general, on grocery shopping in our family, too. Leva knows better how to choose pears or honey. And I in what powder or furniture cleaner to buy. In short, each has its own diocese.
Nutritional Changes
Yesterday I wrote about the new work of my husband. So now he is less likely to cook. I could not step over my own, I don't want to, and I could add on to all my duties in the house and cooking. But my two additional works, added to the main one, do not allow this.
More precisely, you can cut back on your sleep or the small amount of time that remains for the most basic self-care, but for now I'm completely not ready for this. So we began to have different store semi-finished products more often.
Good or bad
Good or bad by themselves semi-finished products, I thought before. Only this has always been in terms of health, not losing weight. Now the second worries me almost as much as the first.
I was especially scrupulous about this after a week after such a meal I was returned to one of the kilograms left, not without difficulty (((This despite the fact that I limited my portions.
Three categories of semi-finished products
It seems to me that the semi-finished products are also different. Having thoroughly thought over this and having studied the information on the issue of concern to me, I conditionally divided them for myself into three groups.
1. Harmful semi-finished products, which should be abandoned (or is in the most extreme cases).


In this group, I identified all the dumplings, manti, meatballs, fish / meat sticks, cabbage rolls, pancakes, sausages, wieners, pizza, which are composed of certain components. Soy protein, nitrates, nitrites, modified starch, vegetable fats, palm oil, chicken skin, monosodium glutamate and various acids and so on.
2. Less harmful semi-finished products. They, I believe, can be eaten from time to time (and not three times daily).


I brought here all the products described above (the same dumplings, pancakes, etc.), but without the components indicated in the first paragraph. Or at least with their minimum content.
3. Useful semi-finished products. Yes, there are such too! You can cook them every day.


All frozen vegetables fell into this category: green beans, peas, cauliflower and brussels sprouts, etc. Here I also carry a variety of vegetable mixes.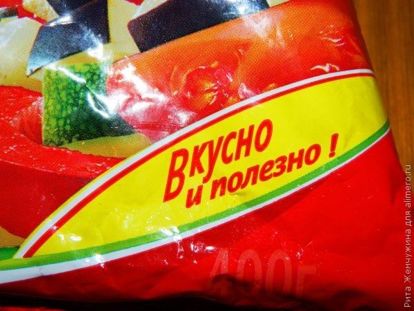 I decided for myself this question cardinally and talked about it with my husband. Now both of us are trying to have more bags with such contents in our freezer. Good for health and for the figure is not harmful!