I look at myself in the mirror and understand that my physical form today is much better than in my 20 years when I weighed 4 kg less. If in those years I was just slim without excess fat, then today the body is exactly toned, with a slight muscle relief.
Especially pleased with barely noticeable cubes in the press. I remember I dreamed about them very much at the age of 20, but they did not appear at all. Dreamed at least once to catch up on the bar, but to no avail boiled macaroni dangled on it. Today I understand that with those loads such results could not appear. So, I reveal the secrets of slimness in middle age!
I'll start with platitudes
Yes, you should always start with a meal, otherwise you will have to plow so that the body can not stand it. I am not saying to go on a strict diet, no. Simply adjust the power. I try to eat all the goodies (cookies, chocolates, etc.) in the morning.
My breakfast is light – a cup of tea with bagels. At lunch something more substantial – porridge with meat or fish and vegetables. At lunch – milk porridge. Dinner I try to do mainly protein, carbohydrates as much as possible to exclude – low-fat cottage cheese with low-fat sour cream, scrambled eggs or yogurt.
I do not say that I strictly adhere to such a regime. Such installations are dangerous for the body. He needs to know that sometimes there is relief, that chocolate is possible, but not now. What is fried and fat, too, is possible, but on holidays, with mom on a visit or sometimes as an exception.
Training Secrets
My training regime is no longer a preparatory level, of course, but one can say for sure what is available to everyone. The morning begins with the fact that after taking the child to the kindergarten, I go to the stadium and run 5 km. Then a small complex on the stretching of the legs to restore muscles and ligaments after running.
Then three times a week I do a circular training:
– 10 times the raising of straight legs from the vis (press);
– 20 times I lower and raise the body (back), hooking my legs to the low pipe and, resting the pelvis into the pipe higher;
– 20 times push up from the ground;
– 20 times squat.
Only 5 approaches. Squats vary: legs wider, already, attacks on one and the other leg. Between these days I do a complex of exercises with dumbbells for speed for one day, in the other – a complex with a small weight. At the expense of the kettlebell, do not be scared – I mainly make swings. It is well loads almost the entire body.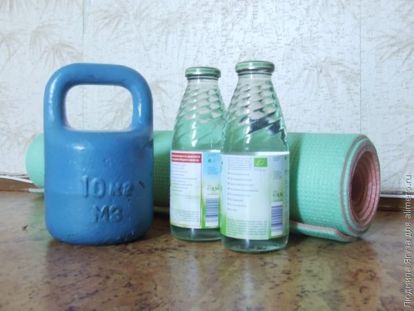 The weight, however, is not sports – the husband dragged all the sports into his room, left at home what people are ashamed to show. Because get away with improvised means. Including instead of dumbbells using water bottles.
And I also have a horizontal bar hanging, and every day, from time to time I go up to it to pull in – the maximum number of times. So far, more than 4 did not work, but in 20 years I could not do that either. In addition, in the evenings I try to do a yoga complex according to Calabin – it pacifies.
How do you like this mode of life?