Probably, all those who lose weight have scales at home that allow you to track the number of pounds dropped. But lately I have been constantly thinking, does regular weighing really help to lose weight?
I always thought that weighed every morning and celebrated the result – this is a great motivation not to quit. However, in practice it was not so simple …
How often do you need to weigh yourself?

Probably, this question will seem strange to you, but in my experience it turned out to be very important, especially since different people have an opinion on this matter. Someone says that you need to be weighed every day, and someone that it interferes and it is better to do it less often.
I have a girlfriend who never even weighed in before going on a proper diet. She said that all this is nonsense and it does not matter how many kilograms it had been before. Now she occasionally stands on the scales, literally a couple of times a month, and it seems to me that she does more for me and not for herself, since I am constantly interested in its progress.
The other girlfriend, on the contrary, practically doesn't get off the scales: she woke up and immediately jumps on them, eats and immediately watches the result, and if she didn't have dinner, she can weigh in the middle of the night. And getting on the scales before and after training in the gym is generally sacred!
My relationship with the scales developed differently. I started the same as the second girlfriend, constantly weighed. But then it began to bother me and drive me crazy, and now I try to hold back and weigh much less often.
but on the other hand

In my case, frequent weighing had a bad effect on results and mood. In past attempts to lose weight, which ended in failure, everything happened as follows.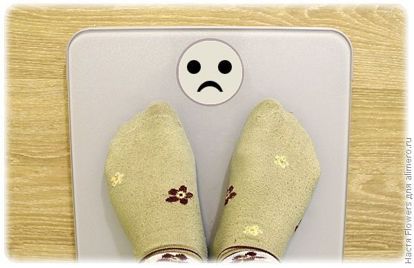 For example, I weighed in the morning and I see a figure 100 grams less than yesterday. I am glad – and the day is going well, if, of course, I do not decide to reward myself with a snack, because I am a good boy and have thrown off a little.
But if, for example, the figure remained unchanged, then I automatically think that I was doing something wrong yesterday and try to tighten the measures. As a result, the mood in the morning is spoiled, every meal is accompanied by a feeling of guilt.
And if the figure is more than yesterday's, then write gone! I either go on a hunger strike and damage my nerves, or throw everything offensively, because So I work so much, but the weight does not go away, but it also increases!
In general, the picture from the head, where I notice a weight loss in the graph every morning and the curve goes down, in reality looked different. The weight could not move for several days, it could decrease, and the next day a few grams would return, although it did the same.
Less likely to weigh, stronger nerves!

This time I do everything differently. Thinking logically, I realized that the weight during the day can fluctuate within 2 kg – and this is normal. Lunch and tea, getting inside, add a few hundred grams. After two glasses of water, most likely, the weight will be almost half a kilogram more than before drinking.
And if you constantly weigh up and see these fluctuations, then you can lose faith in the result and quit everything. And despite the fact that I understand that the weight after dinner will be more than in the morning, I still get upset when I see this addition.
Therefore, in order for the scales to be allies, not enemies, I began to do this: weigh in the morning in my underwear before drinking a glass of water. And I do it once a week, on the same day, on Saturdays.
In general, I tend to weigh in once every two weeks or even less, because when you see the result of a few kilograms, not grams, you have much more faith in yourself!
What is your relationship with weights? How often do you weigh?