A few years ago my work colleague and I decided to do morning runs. So to say, to maintain physical fitness and accelerate the dropping of extra kilos. We sat, drank tea, set a route and time of the race. They did not delay this action indefinitely and the start was scheduled for the next day.
Honestly, the options were considered mass. The first was running at the stadium. The length of one lap is 400 meters, I can't say exactly or approximately, but we thought to start with 5 laps, so that we would end up with 2 kilometers.
The second option was to run in the park. And since it is not so great here, the running along its perimeter also had to be repeated several times. Of course, the length of its borders was unknown to us and this option was eventually rejected.
We stopped on a route that took its origin in the city. It began from the very center near Kazakhtelecom and finished near the Arboretum, already outside the settlement. Thanks to the internet, we learned that the distance we determined is approximately 3 kilometers. That is, 1.5 km there and the same back.
We had to arrive at work by 10.00 in the morning. Proceeding from this, we calculated that if we set the dispatch time at 6.30 am, having spent 40-50 minutes for the whole process, plus getting to the house in a quick step of 10 minutes, then there will be plenty of time to carry out all morning maintenance procedures. On that and decided.
At 6.30, as actually agreed on the day before, we met near Kazakhtelecom, so to speak at point A. Before point B, namely, we reached the Dendrapark with unprecedented ease. But here's the ill luck, having stopped there to rest for 5 minutes, we ran back barely, moving from a run to a quick step and vice versa.
In general, with grief in half, we returned to the starting point and headed home. As I reached the house, my face began to burn. I took a cool shower, but somehow I did not feel relief. There was still time before work and I took a short nap.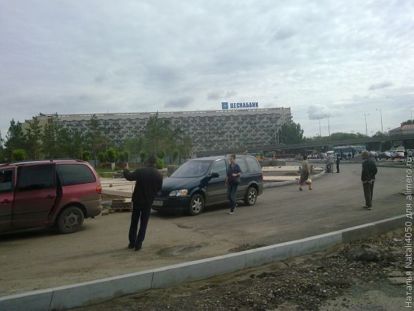 At work, I felt all the delights of his condition. There was brawn in my head, and the body generally lived a separate life. As a result, I felt very bad and went to an ambulance. Fortunately, it is 3 minutes walk.
It turns out that I have, in fact, hypotonic, with a working pressure of 110 to 70, it has risen right up to 140 to 100. They gave me a shot, and I set off again to conquer the labor peaks. An hour later, I felt a little easier, but all the same, all day I felt unwell.
My colleague felt much more energetic and included a morning jog in her daily routine, but she did, however, slightly reduce the distance. And in the end she managed to lose weight by a couple of kilograms and noticeably tighten her silhouette.
For myself, I made the following conclusions:
1. It is not necessary to threaten for long distances from the first day.
2. It is not necessary to run fast, even if it is easy to run.
3. No need to make stops for rest, otherwise the next run will be more difficult. It is preferable to just slightly reset the pace.
4. Measure the pressure before and after jogging.
Here is such a bad experience I have in terms of jogging for weight loss. Still, I prefer static gymnastics.
Did running help you lose those extra pounds?