One time I regularly spent fasting days. Every week on Thursday I ate only 1 selected product. Most often, rice was on my plate, because it was easy to sit on it all day, the feeling of hunger was dulled, and the results were pleasing – minus 1-2 kg.
I know that many people are against rice, especially when it comes to losing weight, but I think that with such fasting days to bring results, you need to know some of the nuances.
Many housewives know: if the soup is salty, you must put a bag of rice in it, and excess salt will be absorbed into the grits. And my rice grains are in the salt, so I rid the salt of excess moisture. In general, this croup is an excellent absorbent. Our body rice porridge is thus able to get rid of excess toxins and slags.
The rice contains many vitamins and microelements, for example, calcium, phosphorus, magnesium and iron. And still the protein which is contained in grain, is acquired better if to compare it to buckwheat. Here are just some fiber in the grains.
5 rice varieties for fasting days
I tried many varieties of rice and realized that for fasting days it is better to take a certain look. I arrange them in places, from the best to the least suitable.
1. Brown in this regard, I liked the most, he cooks for a long time, but he is more satisfying and it contains more vitamins.
2. Basmati is long-grain, it does not boil soft during cooking, but at the same time it does not remain firm.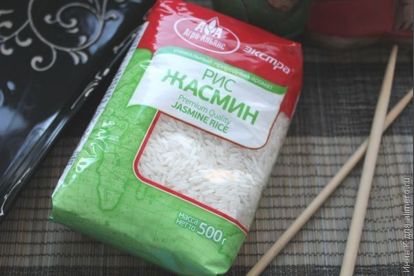 3. Jasmine – we have this variety used to make sushi. It has good stickiness. If, after cooking, the basmati remains separate grains, the jasmine still turns to porridge, but still it is tasty and fragrant.
4. Arborio – the kernels are not round or long, it boils well during cooking. In this form, a lot of starch. Therefore, you need to cook arborio in plenty of water.
5. Krasnodar Round Grain – this variety is good for children's cereals, at least my youngest daughter eats only that and it is necessary that the dish be very liquid. But round rice is the least suitable for fasting days, since he has a high glycemic index and, therefore, porridge from him will increase the level of sugar.
I'll tell you how I arrange rice fasting days. So, I measure 300 grams per day. dry grains the night before and soak them in water overnight. After that, rice is cooked faster and its glycemic index is lowered, so it is healthier.
In the morning I cook all the soaked rice and divide it into 3 portions: for breakfast, lunch and dinner. It is important on this day to drink a lot of simple pure water: at least 2 liters. And do not drink coffee and tea. For me, as for the coffee lover, this is the hardest moment. But I noticed one thing. If you sit on the same rice, that is, do not want. And if you commit violations, then endure a one-day diet becomes hard.
The morning after such a fasting day will surely please you with a minus in kilograms. Only the main thing is not to lash out at once on food, otherwise all efforts will go down the drain.
Have you ever sat on rice fasting days?