The readers who follow my blog know that in a few months I will have my first half marathon. Today I want to tell you how preparation works for him. I am very lucky that I have a friend who has been involved in such events for a long time. Under his strict guidance, I train.
Beginners Runners Mistakes
I will tell you a little how it all began. I began to run in mid-May. I have never run before, but I seriously did physical exercises for more than a year. By exercise, I mean going to the gym 3 times a week. In May, I received an offer to participate in the half marathon (the distance is 21.5 km). I love to set goals for myself, so I agreed immediately.
I will not tell you in detail how I started to run, what the results were (I wrote about this in earlier topics). I can only say that by the end of June I ran 15 km in 1 hour and 17 minutes. It was a very good result, I was very proud of myself. A friend also said that this was a fantastic result, but he always repeated to me – run slower. In the half marathon speed is not so important, the main thing is endurance.
Undoubtedly, 15 km in such a period of time is not bad, but then I get incredibly tired, it would be hard to run the remaining 6 km at such a pace. Therefore, on the contrary, it is necessary to begin slowly. When the finish line will remain 5-6 km, and the forces will be enough, then you can increase the speed.
But this was not my main mistake. Due to the high speed and load my knees started to hurt. I have no training experience, I have the wrong technique, I have non-trained legs – all this led to injury to the joints.
A friend once again scolded me and made me the right training plan. Now I train according to the following schedule: 3 weeks I will run 3 times a week for 10 km, at a speed of 10-11 km / h. Then you need to increase the distance to 15-17 km, and a couple of weeks before the marathon, again, reduce to 10 km.
Now I will run slowly and a short distance, but often. So I have to train my legs. The most important thing for these 3 weeks I want to learn is the correct technique of running: when you strike with the ground, put your foot on the toe, and not on the heel. Thus, the load on the joint will be less.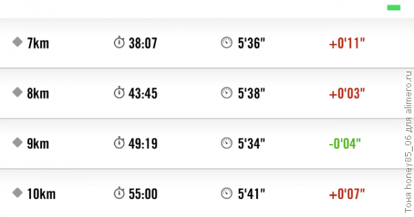 I have 2 months left before the marathon. I will keep you posted and tell the latest news.
Are there readers who run? For me, all the advice in this area is very important.