I know, I know, you are waiting for a story about how I decided to take a bath, have a cup of coffee, go shopping, buy myself a bunch of small roses … No, really. No cheating and feline stories. I took a barbell for half a day! And I must say, with great pleasure.
Two weeks ago I came across information that the Olympic champion in weightlifting was holding a seminar for the first time. The date of February 14th did not bother me at all, even made me happy. As long as everyone will huddle around the cafes in search of free tables, I will grow above myself!
The point is not at all that I seem to be saving myself from experiences. Like, I have no favorite, to celebrate such a wonderful day, ah-yay, poor me! Nothing like that was ever felt. It was felt that such a step – the gap of the usual patterns, something unusual and fascinating.
And, in general, I was not mistaken. Especially since the thought does not leave me to return to coaching. And until it was realized, there is no reason to deny yourself new knowledge and professional growth.
My Valentine's Discoveries
To be honest, before, I had little idea what weightlifting is. It seems like athletes lift heavy bars. But how she differs fundamentally from powerlifting or strongman, she understood poorly. Maximum – different exercises and assessment of their implementation according to different rules.
My first discovery was to understand this difference. In fact, in weightlifting, weight gain is largely not only due to force, but also due to inertia. Hence the need to be able to properly lift and run the bar, sit down under it, to push where necessary and hold.
The second discovery was that the weightlifters are very athletic athletes. Almost like gymnasts, only their muscles are bigger. It turns out that in order to properly take the barbell on the chest, you must observe perfect posture, otherwise the barbell simply can not be held. Especially if a kilogram of 200 is hung on it.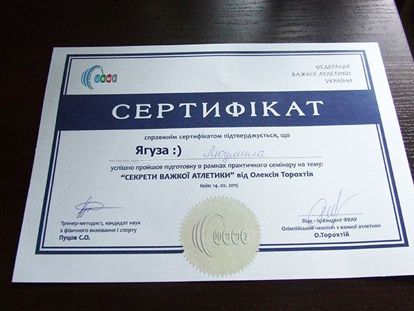 Of course, I raised a modest female vulture, probably a kilogram at 15. But I felt all these nuances in detail.
And the third thing that surprised me was that almost the whole body was being drawn into the work. It seems that you are doing nothing at all: squat, raised the barbell to the chest, jump, squeezed over your head. And all the major major joints and muscles work.
The fourth discovery caught up with me this afternoon. I found my weak spot, moving with a Buratin gait. Strangely enough, but my hands are rising without any problems, the back did not feel the load at all, but on the thighs the stencil was just terrible.
So it is good that such a wonderful seminar spared my hands, did not deprive me of the opportunity to write here a topic and congratulate everyone on the last St. Valentine's Day!
Love, health and wonderful discoveries!