In my life I have not had to lose weight much, since my weight did not change much. Now I weigh 5 kg more than in my youth. But when I need to lose some weight, oatmeal is the first thing I include in my diet. Rather, I try to eat more than usual, replacing it with other products. Actually, such a diet does not frighten me at all, since I love porridge.
Rules for the use of oatmeal for weight loss


one. Cereal is desirable to take large. This is explained by the fact that large flakes are practically whole grains of oats, only crushed. Such flakes are absorbed more slowly than small ones, which are made from cut grain, and for weight loss it is good.
2 Oatmeal should be boiled in water or just soaked in water. Someone will say that it is not tasty. Yes, there are people among my acquaintances who believe that love for porridge cannot be, and all its praises are sheer pretenses. I can't do anything: they don't understand, it means their problems …
3 Oatmeal for weight loss should be consumed without salt and sugar. Why?
1. When you lose weight, salt and sugar greatly inhibit the process.
2. In oatmeal a very rich set of various nutrients, and there is also enough salt. Well, we especially do not need sugar.
How oatmeal helps to lose weight


That's strange, oatmeal – a very nutritious product, and contributes to weight loss. The fact is that she has a low glycemic index. Therefore, it is slowly absorbed by the body. Consequently, the body does not produce an excess of the hormone insulin, which provokes obesity.
In what form to eat it


As I said above, you can make porridge on water from oatmeal, you can cook soup (just from flakes or with the addition of vegetables), and even better to cook oatmeal kissel.
My oatmeal recipes


Oatmeal Soup



I love to make this dish: delicious, fast, healthy. Moreover, it is useful, not only for weight loss. When my stomach hurts, for me it's just a magic wand.
To prepare such a soup is not necessarily proportional.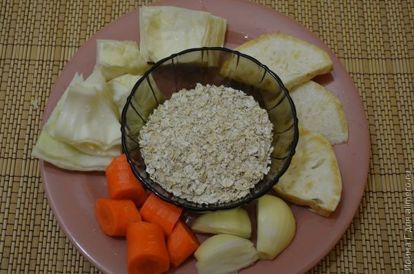 – water
– cereals
– carrot
– onion
– cabbage fresh white
– parsley root or celery
– vegetable oil
I cook vegetables first, then throw a handful of oatmeal. When cooked, pour the broth, thick whip with a blender, connect with the broth. Add any vegetable oil, crumb greens.
Beauty salad


I know this recipe for a long time. Scooped from the book Sophie Vendrovski Hundred minutes for beauty and health.
2 tablespoons of cereal mixed with a handful of any nuts, add a little milk and a teaspoon of honey. Pour it all with cold water and leave overnight. In the morning add one grated apple. Eat instead of breakfast.
Oatmeal jelly


This is truly a magic drink. It enhances immunity and saturates our body with useful substances. But to make it, it will take two days, at a minimum. I make concentrate and store it in a can in the fridge.
I pour oatmeal into a big jar (not less than three-liter), pour it with warm water to the top of the jar, add a slice of black bread (for better fermentation). I do not like very sour, so I do not allow to roam for more than two days. How should I stir, wipe the oatmeal through a sieve that did not rub down – throw it away. I give to stand. The pooled liquid is drained.
I do this several times until a dense gray-white precipitate remains on the bottom of the jar. This is the concentrate of jelly. I take a spoon or two of concentrate, dilute it with a glass of cold water and, stirring, bring it to a boil. That's all. Healthy diet breakfast or dinner is ready.
Eating such dishes, losing weight is not at all difficult. Plus, it's delicious.