I like to periodically arrange my fasting days. After them, the next day you always feel an unusual lightness and the feeling that you and your stomach have a good rest. One of my most favorite fasting days is kefir.
First of all, you need to stock up on kefir. Through trial and error, I found out that a perfect kefir for a fasting day is three days.
If you drink more fresh kefir (today or yesterday), then there is a big risk that you just, forgive, carry it. After all, a one or two day kefir contains a lot of carbon dioxide, which, when it enters the body, causes increased gas formation and has a strong laxative effect.
It would seem that it's good that the intestines are being cleaned: slags and bad elements are removed. However, with harmful substances from the body are washed out and beneficial. Therefore, such kefir does not suit us.
Do not use the old kefir, as it appreciably strengthens and can cause constipation.
Now we will define fat kefir.
Many people think that fasting days are better off at 1% kefir. It does contain significantly fewer calories and fat and more protein. However, it is very difficult for me personally to hold out all day on such kefir, for me it is not very tasty. Therefore, I choose kefir 2.5% fat.
Kefir day mode
I start the day at 7.00 with a glass of warm water. Due to this, the body wakes up faster and all processes are launched.
Somewhere in half an hour, you can start drinking kefir. In total for the day I drink about 2 liters of kefir, trying to distribute this volume evenly over 1 cup every 1.5 hours.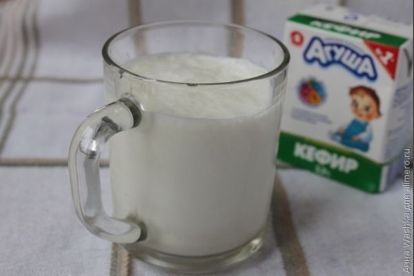 Also during the day you can drink water in unlimited quantities, if you want to drink. It is better if it is mineral water without gas or pure spring water.
Sensations from the unloading day
I can not say that the fasting day is given to me very easily. Best of all, when the day is full of work and business, then it flies faster. If you sit in the office all day or get bored at home, then all thoughts start spinning around the food.
Therefore, I prefer to organize the unloading day on Saturday, when there is a lot of work at home: cleaning, walks with children, and shopping trips.
The most difficult time begins in the evening. When kefir is already boring and wants something more substantial. However, I can not call kefir day hungry. Kefir is so good that with a fairly light composition, it still gives a feeling of satiety.
Results kefir unloading day
On the kefir bottom I lose an average of 1 kg. But it is clear that this leaves excess water, not fat. However, if you spend such days regularly, about once every two weeks, the effect will be more noticeable.