Recently, I talked about my experience losing weight. Now everything is stable, but the body is far from ideal, and so want it.
Lifestyle sometimes makes it difficult to go to the gym, so I began to equip the gym at home. Well, and not quite me, but my husband decided to make me pleased.
Once the door opened and a courier appeared on the threshold with a huge box. It was a surprise for me – exercise bike.
Seeing the box, I was very happy, I love surprises, but only pleasant ones. Until the last moment I did not know what was in her. And if I had not read the word kettler, I would not have understood.
It was not the cheapest model, the husband gave her more than 400 dollars for her. He is generally not my fan of buying cheap things. In a word – a quality simulator.
We unpacked all the details and, like children, sat down to collect our Lego. I was more than an assistant, served the necessary parts, my husband understood the instructions.
After 40 minutes of enthusiastic occupation, our handsome simulator stood in the very center of the room.
The most interesting is a test drive. Far from this led you will not leave, but the sea of ​​positive emotions is guaranteed. And also minus calories and unnecessary fat.
After reading the instructions and watching a couple of video reviews, we were a bit at a loss: the rule was repeated everywhere – to go no more than a couple of minutes a day. This recommendation was to avoid sudden and unusual stress on the heart.
It seemed that a couple of minutes would be solved here, but we refused the long bike ride for the first time. Everything was done according to the instructions.
The simulator displays the following information: exercise time, distance traveled, current speed, calorie consumption, pulse, frequency, body recovery, load value, average values ​​of parameters, temperature, remaining time, remaining distance, planned pulse value.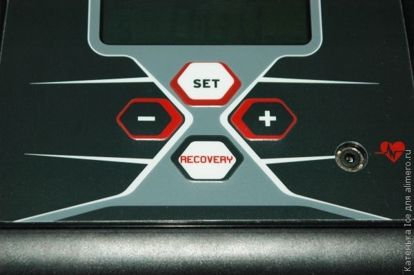 For ourselves, we have got an Exel document, where we register the main indicators every day, or rather, the date, time, distance, calories, pulse and mode.
Mode is the degree of load (from 1 to 8). The higher the number – the harder it is to pedal.
We are just starting to master this miracle machine, so I will talk about the results later.
Do you have a simulator at home?