Last week I began to actively engage in myself, preparing for the beach season. And the first thing I did on the way to a slim figure was a bio-impedance body composition analysis (BIA).
Despite the terrible name, it is a completely innocuous procedure that allows you to find out what the body currently consists of. Unfortunately, it was embarrassing to photograph the process, so I will tell you in words what they did to me and what it gave me.
Body composition: muscle, fat, water

As the doctor explained to me, different tissues have different electrical conductivity, therefore with the help of an instrument the specialist will measure the electrical resistance – and due to the difference in values ​​it determines how much fat, water and muscles we have.
An hour before the BIA you can not eat and drink, and you should also give up alcohol a day before the measurement.
At first I was weighed, recorded height, age, waist, hips and wrist. Then I lay down on the couch, and the doctor attached electrodes to the arm and leg. Within a few minutes I just lay there, there was no discomfort, I really did not feel anything.

Then the doctor disconnected everything, printed out the results for me and explained them (although on paper everything was very detailed).
My results

Bio-impedance body composition analysis allows you to find out at once several important for losing weight parameters – body mass index (BMI), fat mass, lean mass (organs, fluids, muscles, bones) and basic metabolism.
If with BMI more or less everything is clear, then the rest of the indicators without this analysis alone can't be figured out at home.
So, with my height 161 cm and weight 61 kg, my body fat is already 16.8 kg, which is already above the norm. Without harm to the body in me should be from 9.7 to 16.1 kg of fat, not more. The doctor said that there was already an extra burden on my already painful spine: (
Based on other indicators, I learned that my minimum healthy weight should be 54 kg. Of course, we must take into account the ratio of fat and muscle, but for the time being I will be guided by this figure.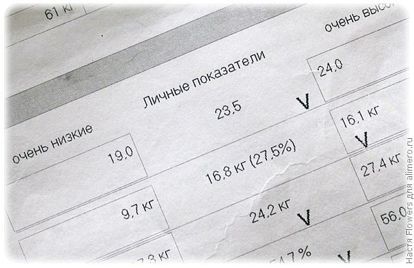 When I reach the 55 kg mark, I will definitely do this body analysis again, in order to make sure that it is the fat that leaves, and not the water or the muscles.
Further action plan

While I was going through this procedure, I talked with the doctor about proper nutrition, sports, and psychological aspects (I gave a hint that my parents fed me as a child, and he said that I was already a big girl and should not look for others to blame for other people ).
I forgot to say about the cost – it is very different from the city and the clinic where you will undergo the procedure. I got to the action, a girlfriend brought me, so 200 rubles came out.
I am glad that I agreed to persuade a friend to go to the BIA, because after six months I can find out how I lose weight (it will be possible to compare the results).
And it all inspired me a lot, because I didn't think that my indicators are already above the norm … So I definitely need to throw off at least 1 kg of fat for the sake of health, but better all seven 🙂
Have you heard, or maybe already done a bio-impedance analysis of body composition?