I like so much to practice oriental dance that I decided to tell you again, dear readers, about my hobby. I especially remember the first lesson and how I worked hard for it.
Paperwork – no odds
My first lesson began with the paperwork. I brought a medical certificate and passport. Help is necessary, because, as it turned out, there are some contraindications for such dances. The passport confirmed my identity.
I was terribly worried. It seemed to me that all the girls are already physically prepared and have certain skills. Until that moment, I hadn't been engaged in dancing or sports at all.
I give the documents to the girl who deals with the design. The girl opens the passport, looks at it, then at me, then again at the passport. The photo I have there is not very successful. As they say, worse than a photo in a passport – only its photocopy 🙂
And then the girl so gently asks who will go to the dance – her sister or girlfriend. I do not understand what she means. Then she gives me a passport. And the first thing I see is a photo of my mom. Yes, yes, I confused the passport! And my mother and I are very similar, only now age … In general, we laughed with this girl for a long time.
Choosing a suit is troublesome.
I brought the costume to my first lesson. I chose him carefully. I really liked the costume, embroidered with coins, but my size was not, only for children. And I certainly wanted with coins! And I bought a suit of my size, and I bought coins in the accessories section.
All evening on the eve of the first day of class I diligently embroidered my suit. But it turned out that at first you do not need to dress up in costumes, but, on the contrary, you need a form fitting, like leggings and a topic.
I was allowed to stay in the trousers, and a T-shirt was given. It turns out that I was not the only one who came to the first lesson with a smart suit!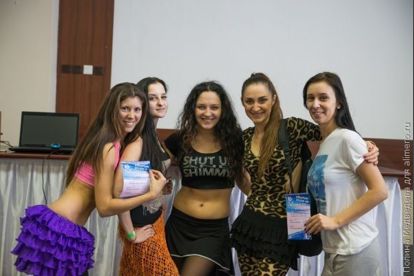 We did not learn the first movements right away. At first we did gymnastics. Then the dance teacher showed us stretching exercises. I tried to repeat, but I did not succeed. Since I was in
group for beginners, it didn't upset me at all – everyone is like that!
Two times during the respite, we were turned on to music, and the teacher showed movements. This is such a beautiful sight! And the music is just awesome!
When I came home, I repeated the movements I remembered for a long time in front of the mirror. She told all relatives and friends about her first successes and impressions.
A couple of months later, I had my first public appearance. We were called to a charity concert.
And how do you feel about oriental dance? Would you like to learn how to dance?