I started exercising in the gym 1.5 years ago. I used to work at home on my own sometimes – I used to press the press, did the exercises on my legs, twisted the hoop. My good friend persuaded me to buy a subscription to the gym. I think he was just bored there doing it alone.
How I started to train


My very first classes in the gym were held under the guidance of a coach. I wanted to be introduced to the simulators, taught the correct technique, made an approximate plan of exercises. Undoubtedly, I advise those who can afford it, always deal with the coach. This, firstly, will save you from injury, and secondly, the coach will never let you relax, and this is the most important thing.
Anyway, I started to train on my own. Of course, sometimes I looked at others as they do these or other exercises, read and looked through a lot of materials about classes in the gym. My faithful comrade also always told me how to make approaches correctly (he always worked with the coach and then showed me everything and told me). Thus, I brought for myself my unique program, which I still do today.
My training program
I go to the gym 2 times a week and run 1 time a week. Workouts alternate by week. I dedicate one lesson per week to the upper body, the second lesson to the lower one. But, for example, on the hands, I also share the exercises: the 1st week is dedicated to the biceps and back, the 2nd week to the triceps and chest muscles.
On the legs, too, one week – one set of exercises, another week – another. In addition, I alternate classes when I do exercises with large weights, but with a small number of approaches, and vice versa – small weights, but many repetitions.
At the very beginning, I tried to fit in one lesson all the exercises that I knew on one or another group of muscles. As a result, I spent in the hall more than 2 hours. In the end, I divided all the exercises into blocks, and now my strength training alone lasts no more than an hour.
In addition to strength training, each gym visit includes abdominal exercises and a mandatory 40-minute cardio (this is usually either an ellipse or a treadmill).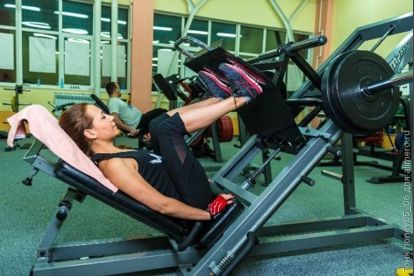 Now I am in fairly good shape. For quite some time now I started to run hard, I will tell about it in the next post.
Tell me, please, by what method do you train? How do you motivate yourself to go to the gym?