A couple of years ago, during a traditional conversation with a girlfriend on the topic How to still lose weight ?, I learned about such an interesting product as milk. Already by the name it is clear what ingredients this drink consists of 🙂
As a rule, milk is used during unloading days, and in one day helps to get rid of 1 to 2 kg, and quite easily, because This drink is delicious and, however strange it may sound, hearty. All these facts inspired me – and the very next day I decided to unload.
Milk Recipe

For a fasting day, you will need one package of nonfat milk (one and a half liters) and several spoons of leaf tea (black or green). The classic recipe for cooking milk such as:
Put the pot of milk on the fire. When the milk starts to boil, pour 3-4 spoons of tea. Turn off the fire, stir the mixture, cover with a lid and wait about 20 minutes for the tea to brew. Then pour into a mug through a strainer (to remove the tea leaves) – and you can enjoy a delicious hot drink!
I did it according to this recipe, although there is another variation of cooking milk, which is suitable for unloading at work, where there is no stove. Just brew tea in the usual way (in a mug, pouring boiling water over it), and when the tea is infused and cooled a little, add milk.
The taste is slightly different, but it comes out even more lightly, since at first the tea is brewed with water, which means that there is less milk in the mug.
Fasting day

The resulting drink is recommended to drink during the day one glass every 2 hours. You can cook the whole portion of milk for the whole day at once and warm it up (although it is allowed to drink it cold, the taste is also quite good), but you can again prepare the drink every time.
During the day, you also need to drink ordinary water (about one and a half liters), because Milk has a diuretic effect. Such a fasting day is recommended no more than once a week.
Do not forget to consult your doctor if you have a chronic illness. In addition, milk is better not to drink to those who have problems with the kidneys and blood pressure. For lactose intolerance, you can use soy milk.
My impressions

After I first tried milk, he immediately became one of my favorite drinks for fasting days. Hot, nourishing, tasty – with it you almost do not feel hunger. True, because You only drink milk and water all day long, preferably the ladies' room is within reach – and it's better not to plan any long trips this day.
On average, it takes me 1 kg per day of such discharge, but this is more likely due to water and an empty stomach. The next day, about half return, but in my opinion, this is normal.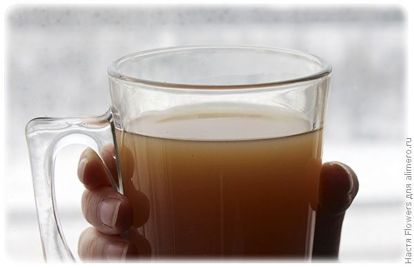 By the way, molokochay helps me out in the winter, especially in the evening, when I want something hot and always high-calorie. Then I drink a glass of tea with milk – and thus avoid evening breakdowns, which are particularly insidious in the cold.
What do you think about fasting days?
How often do you arrange them?