At one time I tried many diets on myself, but I especially remember one of them. This is a meat diet, a distinctive feature of which is the almost complete absence of hunger.
By the way, I read somewhere that Gerard Depardieu considers himself a fan of this diet. True, his figure is not noticeable, but it can be concluded that the meat diet is popular not only among mere mortals, but among celebrities.
The main provisions of the diet
In compliance with the meat diet is nothing complicated. You can eat meat, fish, eggs and vegetables. Meat should be lean, boiled or baked in the oven. Fish can be cooked similarly, and eggs are allowed exclusively boiled. All this protein splendor can be consumed daily, but not more than 450g per day.
Garnish can be any vegetables, excluding potatoes. You can make salads from vegetables or stew them with a little oil. But you can not fry anything. You can drink water, tea, coffee, but without sugar and milk. All 450g of meat should not be eaten in one sitting, but should be divided into portions, approximately into 5 parts and not eaten immediately before bedtime.
Diet is designed for 10 days. The result will be a taut figure and a minus 5-6 kg. Personally, I threw off, thus, only 2 kg, but, I think, due to the fact that sometimes it violated the chosen diet.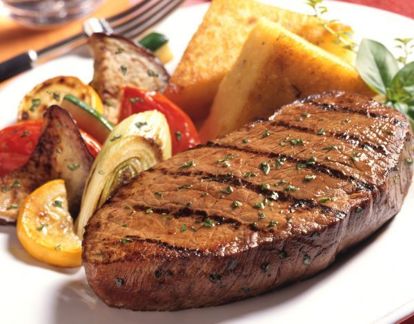 Such a diet is easy because after eating meat, eating is not as desirable as with other diets. Nutrition is obtained by saturated proteins, which are the building blocks for our muscles. And fish is a source of healthy minerals, such as iodine and phosphorus. In addition, vegetables are rich in vitamins, which can be consumed in unlimited quantities.
Meat is digested in the stomach for a long time, and, in addition, such a diet can lead to constipation. To avoid this, eat more carrot and beet salads. Since during the diet one cannot eat food rich in carbohydrates, after its completion there is a risk to break down and gain all the kilos dropped for 10 days.
And most importantly, excessive consumption of meat products can lead to the exacerbation of certain chronic diseases, so I advise you to discuss this diet with your doctor.
Have you tried the meat diet?