In the fight against cellulite all means are good. Without a diet, an active lifestyle can not do, but additional tools such as massage and wraps also give a good result.
However, if you have sensitive vessels, I think you have encountered the problem that many types of anti-cellulite massage, unfortunately, are contraindicated.
A good masseur who does not harm and does not bruise, now I do not have the opportunity to visit, so I was puzzled by the search for a massage that was gentle but effective in the struggle for toned skin.
And found one! It is called a dry brush massage or a dry massage, it does not matter.
Looking for the right massage

During the diet, I tried different types of massage – banks, honey, various massagers, but they all left bruises on me. I think this is not very good, so I wanted to try something new.
And then I accidentally stumbled on the Internet on video, where a girl (if I am not mistaken, a fitness instructor) was talking about a miracle massage with the help of a wash brush!
The girl was very convincing, so I immediately began to look for additional information and realized that this is exactly what I need!
The benefits of dry massage

This type of massage well peels dead cells, stimulates blood circulation, helps to get rid of cellulite, and also energizes (therefore, it is preferable to do in the morning). Although in the evening this massage is very pleasant, because after you take a shower and go to bed with a light head.
In addition, the massage takes a little time (about 20 minutes), is simple to perform, and of the additional funds only a brush is needed.
Massage Brush

As I understand it, the brush for this massage is needed from natural bristles, but its softness depends on the sensitivity of the skin. I bought my brush in the shower and bath department, there were no divisions into hard or soft ones, I chose the one I liked in form.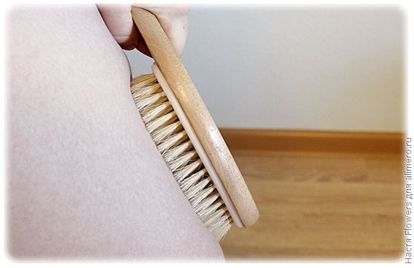 Generally recommend a brush with a long handle, but I did not like it, it only interfered, so I took it with a short and slightly curved.
How to do a dry massage

The main rule, massage should be done on dry skin with a dry brush, otherwise you can stretch the skin. You need to move from the feet up, in circular and stroking movements along the muscles from the bottom up. The area of ​​the hips and buttocks to work longer and more active.
In no case can not massage the inner side of the thigh near the groin, the place of the bend of the legs (behind the knee) and hands (where the veins)!
Movement should not hurt. After the massage, it is desirable to take a shower (in places where the most massaged will be felt a slight tingling).
After a shower, you should put on the skin oil or cream. I prefer those that are from stretch marks or for skin tightening.
results

This massage is quite easy, so you need to perform it every day for the first month, then every other day, and when you get the desired result (for prevention) you should perform it a couple of times a week.
I started not so long ago, but I already see the first results, the skin has become more elastic and pleasant to the touch.

This massage can be considered not only as anti-cellulite, but also as tonic, because blood accelerates, health improves. For the tone and smoothness of the skin, you can perform this procedure before each trip to the shower, just reduce the time of massaging to a few minutes. Then the problem of skin peeling disappears by itself, because brush well removes dead skin cells.
I really liked this type of massage!