It would seem that children's fun is to ride a rope, but it turns out that this is not only a way to raise your spirits and feel like a child, but also an opportunity to improve your health and lose a few kilograms, which is important in spring.
Today I went and bought myself a new rope and it turned out that more than twenty times I couldn't jump over it. Why? Because there was not enough breathing, and the legs were too heavy. Maybe all the fault of a good walk in front of this shopping? Perhaps, but I would like more.
I remember as a child, we competed to jump over the rope and, after a hundred, simply lost count, but continued to ride on. Now you do not need to count yourself, because the rope independently counts your jumps. There is a reset function. A small scoreboard on the handle of the rope will be able to count up to 999 jumps! But I think, for starters, you should not torture yourself with such loads – it will come in handy later.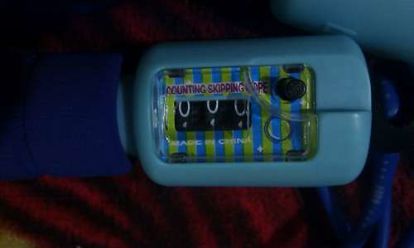 So what are the benefits of jumping rope?
1. Skipping rope – the simplest cardio.
2. Jumping a quarter of an hour at a moderate pace, you can burn 200 kcal.
3. Leads the body tone.
4. Improves coordination of movements.
5. Optimizes the work of the heart.
6. Improves blood circulation.
7. Lowers the pressure.
8. Improves cholesterol levels.
9. Strengthens bones.
10. Raises mood.
Jump right
In order for the rope to bring you benefit, not harm, you need to wear shoes with corrugated soles (sports) for practice. This will give you the opportunity not to strain the ligaments, tendons and joints. You need to jump no higher than 2-4 cm from the ground, and it is better not on two legs, but alternating one foot with the other. To soften the jumps, your knees should be slightly bent, and your upper body straight.
It is very easy to monitor your health, as the rope is a cheap simulator, and health is priceless.
Before starting your classes, do not forget to consult with your doctor if you have health problems (especially the cardiovascular system and the spine).