When doing any kind of sport there are often injuries. I do not really understand medical terms and I can't tell in detail about all the injuries that can be obtained, for example, by doing in the gym. I just want to talk about my case – pain in the joints when running.

What causes joint pain when running
I run long distances on the street for about 2.5 months. At the very beginning nothing bothered me, the pain appeared a week ago. My knees started to hurt, and they didn't disturb in a calm state, pain appeared when walking. I used to run on a treadmill, and I had no such problems.
I was told that much depends on the technique of running. In contact with the asphalt foot to step on the toe, and not on the heel. Thus, the impact on the knee joint will be less. My mistake is that I initially started running wrong. It was necessary right away, from the very beginning, to learn the correct technique, now it is a little hard to relearn.
A familiar runner used this technique to retrain – he inserted earplugs into his ears, and thus he heard the heel hit the asphalt. So he controlled his foot, trying to step on a toe.
Also, much depends on the surface of the road where you run. As I wrote above, when running on a treadmill, I did not feel any discomfort. Run on the asphalt is harmful, too hard surface. Coaches recommend, if possible, run on the ground or in a stadium where there is a special soft coating.
How to secure the knee joint with loads
I have had problems with my knees for a long time: in my childhood I was engaged in dances, and it was not rare that I fell on my knees and broke them. I also skated for a long time on roller skates, my knees were always bruised. Therefore, I suspected that sooner or later these injuries would be felt.
My last run was unsuccessful – I didn't run half of what was planned earlier, due to pain in the joints. The next day it was hard for me to walk, especially my knee on my right leg hurt. In the pharmacy, I bought ointment from pain and inflammation in the joints, and special bandages to secure the knee joint (elastic bandages can be used).
The ointment was miraculous, the pain passed the next morning. I understand that when you run the pain may come back. Now, I will definitely put a bandage on my lap. This should protect my joints from the load. And, of course, I will try to step on the toe, and not on the heel. If I knew all these rules at the beginning of my runs, all problems could have been avoided.
Unfortunately, I have no opportunity to run on the ground or on the stadium. I hope the correct technique will ease the strain on my joints while running on asphalt.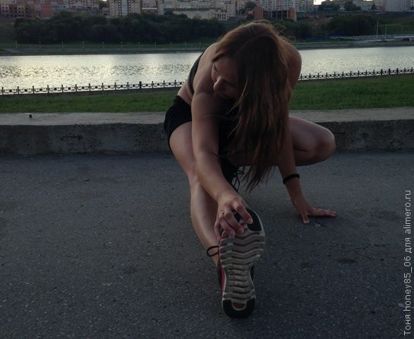 Tell me, please, what methods do you know how to combat joint pain?