I'll start from afar. When I was still in primary school, there were so many health problems that the examinations in hospitals sometimes lasted two months. And as a result, I had a permanent exemption from physical training for medical reasons.
I remember how depressing it was to watch peers who played the ball, and I had to just sit on the bench. At that time I was probably the fattest kid among my peers.
Of course, this could not go on forever. Considering that I didn't have a release from summer weeding, I began to demand that they treat me as a perfectly healthy child.
I do not remember how everything was resolved, but I remember how my love began to play sports at school. If the other girls wanted to somehow slip away from the lessons of physical culture, then I liked the opposite.
I got into volleyball. Perhaps I played so-so, but I enjoyed it immensely. I could not be compared with that eight-year-old girl with an incredibly overweight, but I was still far from the ideal figure.
Do it once, do it twice.
Somewhere in the third year of university, a worm envy of slender girls crawled to the very depths of consciousness. I actively communicated with the opposite sex, but did not notice any interest in my direction. Having finally convinced myself that the whole thing was in my proportions, I began to strive for weight loss with even greater fanaticism at any cost.
Talking about a balanced diet in college years is ridiculous. I lived in a dormitory, sometimes every day there was simply no possibility of food. And as a result, I soon showed gastritis. It was decided to focus on sports.
Two hours a week of university sports activities seemed to me a little. It was decided to go to the gym at least three times a week. Hour step, plus half an hour of strength training, plus before and after two hours without food, and so three times a week.
Under such an onslaught, my body soon gave up. A month later, I noticed a significant shift, my pants were already free! But there were other shifts too. I began to get tired much faster. But I was not going to give up.
Went the second month of my struggle for a slim figure. Forces were running out. But then suddenly the session crept up, and there was simply no time left for the training. And I decided to give myself a temporary respite from the sport.
The session was over, and ahead of the summer days of complete freedom! Well, in the summer you can keep the figure on vegetable salads and fruits, I decided. And by September I had already unknowingly returned to my former size. But oddly enough, they no longer prevented me from living as before. And the more difficult it was to force myself to return to the sport. And with the release of work it became for me just unreal.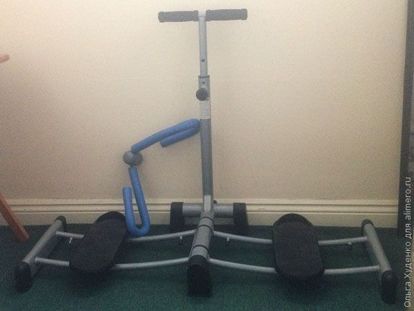 Herself an instructor

Of course, I tried to study at home. But the fuse that in the hall never came. So in the end, only walking has remained in sports (and best of all shopping). And I went the other way to lose weight: the correct mode of the day and nutrition.
By the way, this is what helped me recover from childbirth. While you are breastfeeding a child, you are not particularly in the gym. Until now, doubts are taking, whether to admire the mummies, who after a couple of months after giving birth, run to the gym, leaving the baby under the supervision of grandmothers or nannies.
And finally, I will say.
Undoubtedly, there are people who like to torture themselves in gyms, I, apparently, not one of them. Especially now, when all the forces have to spend on the child.
When you are young and free, full of energy and optimism, sport smoothly fits into your life, provided it is in moderation.
Over time, I came to the conclusion that my health is my habits, and not temporary remedial measures. And the sport I want to make a habit that would give me pleasure all my life, and would not be obligatory. I'm thinking now, and not if I do dancing or yoga?