In my childhood I was always thin and tall girl, but by the age of 14 I began to recover, most likely due to puberty. At 16, I already had everything in place. But my figure did not suit me. I have always believed that the standard of beauty is not a single gram of fat on the body.
At 18, I wore 46 clothing sizes, and almost all of my friends are 44. I am very complexed and worried about this. My parents didn't particularly indulge me with compliments, and so did the boy. Due to the fact that my height was 175, I generally considered myself a giant.
My mother was thin and tall all my life, my father began to gain weight after 25 years, now he weighs about 150 kg. It worries me all my life, I am inclined to be overweight. All relatives on my father's line in the body. My body is constantly struggling with this problem: I am gaining, then losing weight.
After my divorce from my first husband, I decided to put myself in order. A friend offered to go on a diet for the company. She lost weight by some method of piercing the ears, and I – due to the fact that I was tired of constant problems with the intestines. We ate little and only until 6 pm: vegetables, fruits, boiled meats and bitter chocolate.
At first it was difficult, I was constantly on the nerves. But gradually my body got used to it. For a couple of months I lost about 8 kg, the figure became perfect and overall I looked amazing. I gained a sense of self-confidence, and more men began to pay attention to me.
The carriage turned into a pumpkin
Having picked up a suitable young man, I stopped dieting and gradually ate more and more. In the end, returned to weight, which was before the diet. After a while, I began to take birth control pills and added another 2 kg. After the cancellation of contraceptives, I did not lose weight.
Before pregnancy, I weighed 75 kg with an increase of 178 cm, gained 20 kg over my entire life and 6 months after giving birth I returned to previous weight, but not just because I didn't eat anything for the first 3 months and sometimes there was no time to sit down. In general, weight is holding up now, but I see that there are extra pounds, some parts of my body do not suit me.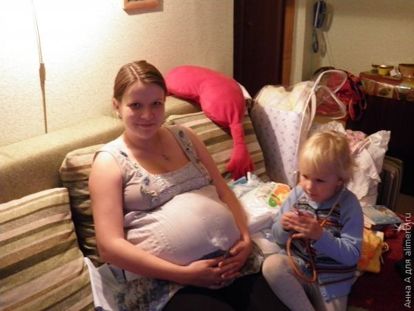 How to become a slim mom?
Now, due to the vain lifestyle because of the child, most likely I don't gain weight, but if I go to work and sit in the office, I think I'll start to get fat right away. Man, I'm lazy. I will not go in for sports, at least, while the child is small. Yes, and diets only spoil the already shaky nervous system, especially not living through hunger.
My mother thinks that I need to throw at least 5 kg. I agree with her, but it's too early to break the panic. Perhaps you need to revise your diet, since I do not have a regime at all. I eat once a day what is necessary and often drink tea with sweets in order to at least occasionally lift my spirits.
Tell me how to be. Maybe someone has a similar situation?