Most often, excess weight is gained with improper nutrition. This is known to all, but due to the lack of specifics, many do not understand what exactly is hidden under such a concept and what needs to be done in order for this very nutrition to become correct.
The first step is to identify the errors in your diet.
Major nutritional errors:
– we eat a lot
– we eat very fatty foods
– choose the wrong food (a lot of bakery and confectionery, few vegetables, fruits, fish)
– drink too much
– we eat fast, irregularly
– we cook incorrectly (abuse salt, fry, when you can boil or bake)
– know little about food culture
– we eat, forgetting about features of the age
How to identify your mistakes in nutrition?
If you want to identify your mistakes, you need to analyze your diet. And for this, write down every day everything for you to eat and drink. Specify the method of preparation of each dish. Record the reasons that prompted you to eat any product. Fix even minor, in your opinion, snacks.
After the very first week, you will understand what foods prevail in your diet. If there is a lot of sweet, fatty, salty, smoked meat among them, then you need to take the next step – set yourself specific goals and carry out 1 weekly.
What goals can be set?
– drink coffee without milk or cream
– drink coffee and tea without sugar
– eat sandwiches without butter
– do not use sauces
– do not eat sweets (cookies, sweets)
– completely eliminate sugar
– do not eat rice and potatoes
– refuse sandwiches
– eat half a regular serving
– eat raw fruits and vegetables
– refuse frying products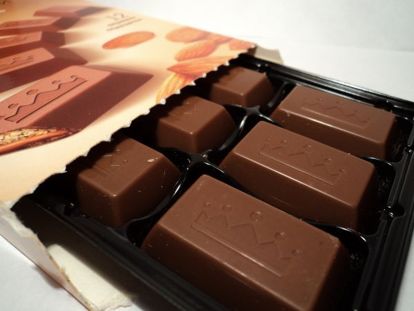 How to switch to proper nutrition?
The transition to proper nutrition should be carried out gradually. It is impossible on the first day to abandon all hazards, because it can only lead to one – to breakdown and reduce all positive results to zero.
It is best to choose one goal and stick to it throughout the week. Then move on to the next, not forgetting the first! For example, in the first week you refused coffee with cream, but continue to drink it with sugar. So, in the second week, you should give up sugar in your coffee, but you can still eat sweets. In the third week it is worth refusing from sweets.
As a result, nutrition restrictions will occur slowly and consistently.
P.S. My photo with a chocolate is better than any words suggests that I am still in the second week of restrictions. 🙂