A mad desire to lose weight and lead a healthy lifestyle has turned me into a real detective to search for … harmful fats in food 🙂
After all, everyone knows what effect they have on our body – they increase the level of bad cholesterol, which can lead to serious diseases of the cardiovascular system and even oncology. In addition, very often excess fat in the diet is the cause of excess weight.
What to do? Of course, first of all, using the talent of the detective, who, I think, is in each of us, to search for suspects in our favorite products. Well, then try to eliminate at all. How?
In fact, it is not so difficult. I want to share simple tips that helped me reduce fat in the diet. And also by the way, without giving up my favorite dishes, I made them less fat. Otherwise, you won't last long on a low-fat kefir;)
We find, reduce, exclude

1. Less fried foods. After all, this is not the only way of cooking – you can bake, boil, simmer, steam. And if you really want something fried, then use a very small amount of fat.
2. On what we cook. Yes, potatoes, fried in fat, yummy! Or mashed potatoes, heated in a skillet in butter. But such food is very fat. Therefore, I cook exclusively in olive oil.

3. Less prefabricated and canned food. It is unlikely that low-fat meat was used to make grocery dumplings and meatballs. Plus, these products also contain preservative chemicals.
4. Replace meat. It would be good to include lean meat into your menu more often, instead of fatty pork. Peeled chicken breast is considered the leader among low-fat meat products.
5. Protein is not only meat. Sometimes alternate meat, fish, beans, mushrooms, and turn on leguminous foods. Vegetable proteins are less fatty.
6. Mayonnaise. If you can not live without mayonnaise, then replace the store with a homemade one – with healthy olive oil and quail eggs.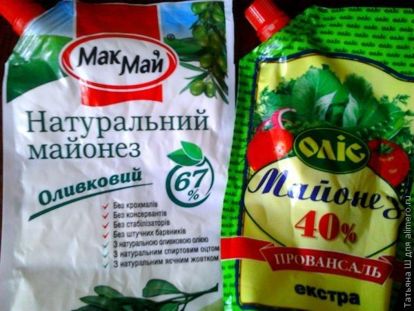 7. Minimum purchase of sweets and fast food. This is generally the leader in the content of harmful trans fats. Do you know what trans fats are?
This is a distorted fat molecule that combines with hydrogen in the process of heating. Then these fats are introduced into our cell membranes, change their shape and disrupt their normal functioning. Because of this, the risk of cardiovascular diseases, oncology, obesity and various inflammatory processes increases.
Conclusion

It is impossible to completely refuse products containing fat, since certain types of fats are vital for our health. Therefore, you should try, if possible, to replace animal fat with any vegetable oil (except coconut and palm oil).
And how do you reduce the amount of fat?