I believe that losing weight should be accompanied not only by a decrease in the numbers on the scales screen. Very important is the general condition of the figure, muscles, organism.
I continue to do the Quick Walk course. And I always try to supplement this exercise with some other exercise.
My new approach to physical. load
I must say that I do not always have the opportunity to watch a video lesson with Leslie Sanson. Sometimes my husband needs a computer or I don't have the strength or time to do it.
But I developed a golden rule for myself: it's better to exercise 5 minutes a day than 0 (that is, than to do nothing at all). Because when laziness or no time to spend 40-50 minutes, you usually just wave your hand and that's it. I think this is very wrong. Now I act differently.
Long ago, before marriage, I went to class. I do not remember the name of the circle, but we did a bit of everything: aerobics, dancing, stretching. In short, I decided to use some of those exercises.
Let now a lot of circles with newfangled naming: yoga, Pilates, fitness, etc. I believe that the key to success in a good coach. I once had it just like that. Therefore, his advice will always be relevant.
Load on hand
It seems to me, I am not the only one who noticed that when a woman becomes stout, it is immediately noticeable in her hands. Specifically: in the region of the deltoid, triceps, and biceps muscles of the shoulder. It is then that fat and accumulates, treacherously getting out of a short sleeve pretty T-shirt.
These exercises mimic a waving hand like during a swim. First, I do the exercises with my right hand forward, then with the same back. The same with the left hand.
Then with both hands back and forth, when the hands are in a different initial position (one at the top, the second at the bottom). The same with the fully synchronous movement of the hands.
It is good to do each of these 8 mini-exercises for 30 times. I started from 10. Now I am performing to 15.
I stopped at once on three types of push-ups, because they put a load on different muscles.
1 view: the most common from the floor. Hands at shoulder width, legs connected. Wring out, approaching the chest to the floor, not lying. Watching the booty: it should not be tubercle, all the body and legs should be stretched in a straight line.
Type 2: half pushes from the floor. The starting position is the same, but now the legs lie on the floor and do not rise. Work hands and torso to the waist.
3 type: push-ups from the sofa (you can use a chair, chair). I sit down on the sofa, lean on the seat with my palms (elbows look the same way as the back). I pull down my ass and start pushing up, bending my arms around my shoulders. I do it slowly.
In general, it would be good to perform each view 20 times. I started with five, because it was hard. Now I make each view 12 times.
I am engaged with my old dumbbells, each weighing 1 kg. It's enough. I also do some exercises.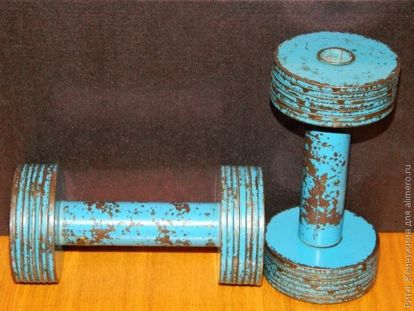 1 view: arms hanging at the seams, bend at the elbows (dumbbells are at shoulder level), lift up.
2 view: hands apart (elbows look at the floor). Bend arms in elbows, practically pressing dumbbells to shoulders.
3 view: hands apart to the side (elbows look the same way and back). Without bending my arms, I lead them in front of me, joining. I return to the original position.
It would be good to do such exercises 30 times. I started with 10, now mastered by 15.
I want to believe that these exercises will be useful to you! To be honest, I already noticed in the mirror the result of the classes and I am very, very happy about it.