How many times on the Internet have you met annoying banners offering to lose 20 pounds in two weeks? As they say, demand creates supply. So, really, many women need to lose weight quickly, and they want to look exactly like * insert the name of an idol *.
I want to clarify a few points. Lose weight, become a little thinner – yes, perhaps without harm to health. This is about 4-5 kilograms. But 20 kilograms will come back to you with dehydration, falling hair, gray complexion and a sore stomach. The choice, as they say, is obvious.
With goal setting. It should be material: to weigh 55 (but also an option is not very – it is unknown how heavy you will look beautiful), run to the 5th floor without shortness of breath, put on a thing of 42 sizes. Do not compare yourself with the stars, do not want to look beautiful, write specific numbers.
Next, you need to understand how the body functions. The body actively protects us from exhaustion – if we start to lose weight dramatically, the body will think that the times of famine have come and to part with the most valuable, in his opinion, fat obviously does not want.
You need to lose weight so as not to accidentally turn on the energy saving system. To do this, calculate the number of kilocalories necessary to maintain the body in a stable state, taking into account physical activity.
Daily rate = (655 (9.6 X body weight) (1.8 X height in cm) – (4.7 X age in years)) X activity factor.
Activity Factor:


– activity factor 1,2 (sedentary lifestyle)
– activity factor 1,375 (average activity (light exercises 1-3 per week))
– activity factor 1.55 (high activity (intensive classes 3-5 times a week))
– activity factor 1,725 ​​(very high activity (heavy physical exertion 6-7 times a week))
To start losing weight, you need to consume 85-90% of the daily norm, but every fourth day to eat 100% – so that the energy-saving mode does not turn on, in which the body tries to destroy the energy-intensive muscles that are needed to burn excess.
Yes, calories will have to count. Kitchen scales are needed for this, but a liter jar / glass / tablespoon in combination with food weight tables will also work. Arm yourself with a notebook, calculator and try to keep the daily rate.
This is quite a fascinating process – to disassemble your food into its component parts and understand how much (or vice versa, a little) you have eaten before. The next step is to calculate the ratio of proteins, fats and carbohydrates in your food (in a nutshell, 50/20/30, but you can write about this in a separate article).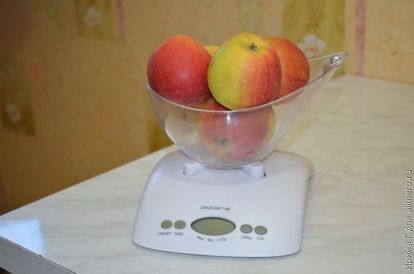 And of course, the classic principles of healthy eating:
1. Fried, fatty, spicy, smoked, cigarettes – down.
2. Drink water, juice, delicious teas (which do not necessarily seize sweet).
3. 100 kcal of apples and 100 kcal of chips are completely different things.
4. Oil, do not exclude, but take the habit of filling the salad, using a spoon, and not water from a bottle.
5. Reward yourself sweet (a little and in the morning).
6. Exercise, burn excess.
And most importantly – this is not a diet, and proper nutrition, which a priori is not a temporary phenomenon in the body. Take care of your health and love yourself!