It turns out that teaching someone to twist the hoop is not an easy task. Recently, I taught my sister this, and it looked like this: only she starts, he falls off the waist with a crash, she bends, lifts, twists a little, he falls again … And so the vicious circle: twists, falls, bends, lifts, twists , and he falls, falls, falls …
Such anguish is unfamiliar to me, since I know how to handle a hoop since childhood. And now, in order to keep abdominal muscles toned, I twist it every day. In addition, such a universal simulator helps to burn calories.
It is best to stand in front of a mirror, because it will be better to see what you are doing wrong.
one. We put legs on width of shoulders, having put forward the right leg slightly forward, if you are right-handed, and left, if left-handed. Hands behind the head are locked in the lock, back is straight. Now we take the hoop and the main thing now is to press it harder to the right side (again, if you are right handed). The greater the speed of the hoop (and the heavier it is), the easier it is to keep it at the waist.
2. We must try to waist described a small circle, and not move back and forth.
3. Chest and buttocks should stand still. They do not move, only the waist.
four. No need to try to twist the circle in different directions – just enough in one.
five. Waist movements should be calm, smooth, rhythmic and circular – in any case not jerky, otherwise there is a risk of harm to the back.
6. Do not do exercises on a full stomach. Ideally, it is better to perform them on an empty stomach.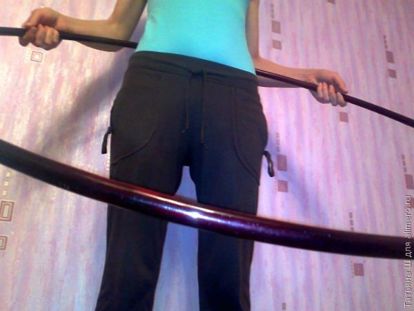 Some recommendations
– try not to hold your breath – breathe evenly and calmly
– try to rotate the hoop as vigorously as possible.
– heavy models are better not to twist more than 20 minutes
– to move the body as little as possible – just try to waist
Exercises should not be done to people with diseases of the back, gastrointestinal tract, gynecological diseases, as well as during menstruation.
I still managed to teach Alenka to twist the hoop;) Not immediately, of course, I had to watch a training video and suffer a few days. But perseverance and training helped to achieve results.
While writing the article, I remembered the joke: I bought a hoop yesterday, put on … just! 😉
Do you know how to twist the hoop? How often do this?