Getting rid of extra pounds, I want the whole body to become more graceful and fit. However, there are such problem areas that you cannot take with one diet or regular exercises, for example, the second chin.
As far as I understand, this misfortune does not always depend on excess weight and may appear in slender girls. In addition, the skin on the chin loses its elasticity with age and may sag. Swimming is an excellent preventive measure, however, not everyone regularly visits the pool.
Therefore, I want to share my experience with this problem area. It seems to me that the best approach to this problem is complex.

1. Exercises

There is a huge amount of exercise that we use the muscles of the face and neck. From the outside, most of them look very funny))
For myself, I chose the following:
• Make sounds of u and u with maximum muscle tension.
• Take a pencil (a wand, a straw) in the teeth and describe the numbers or your name in the air. Each number is repeated 2-3 times.
• Pull forward the lower jaw. Stay in this position for 3 seconds and return to the starting position. Repeat 10 times.
I do these exercises in the morning when I twist the hoop (that is, combine these two processes to save time).
2. Massage

Massage options are also very many, for example, one of the most common – with the help of a terry towel. It is necessary to moisten it in cool water, squeeze it, roll it into a rope, take hold of the ends and pull it with a sharp movement to the sides under the chin – you will get cotton. Repeat several times after washing.
But I prefer honey massage. We take a spoonful of honey (it does not matter whether it is liquid or thickened, you can buy the cheapest for cosmetic procedures), spread it on your chin and begin to clap your fingers. Honey sticks to them and pulls the skin along. In the beginning, it doesn't really stick, and then straight.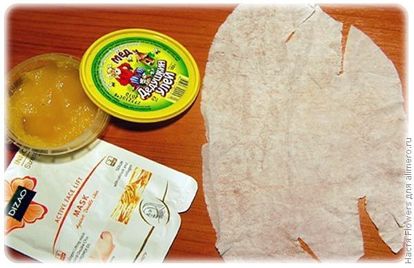 BUT! Do not overdo it. I found for myself that you can not do more than 5 minutes, and then the delicate skin of the chin just burns and peels off, and this is unpleasant. In 5 minutes, everything is warming up, and the honey is already strongly sticking. After immediately wash off and apply a nourishing cream!
3. Masks

In stores you can often find special masks from the second chin. Dear ones, I don't take a risk, so I buy the simplest fabric fabric within 40 rubles. One such mask is enough for me for 3-4 times, I just do not throw it away, I fold it back into a bag – that's all. That is, I need 3-4 masks for a course, instead of 12.
The mask looks like a canvas with cuts, impregnated with a special liquid. You just need to keep on the chin and neck for a few minutes, then rinse with a vydoy and smear with liquid from the compartment offered to the mask. When it ends, I use regular nourishing cream.

results

For 10 days, the skin of the chin tightened a bit. Of course, I didn't have such a neglected case, the skin just started to sag, but I think, if I'm regularly engaged in this area, it's quite possible to get rid of the second chin.



Ideally, in order to maintain elasticity, it would be better to engage in this zone every day, which is what I now strive for.
It is not necessary to use three methods at once, for prevention it will be enough exercise or massage in the morning for a couple of minutes (I think you can replace the mask with a cream to maintain skin elasticity).
Just do not overdo it, the skin of the chin is very delicate!
And how do you follow this area?