Oh, ladies! I am ashamed. I will not say that there are no changes. They are, of course. But it turned out in my plan a vicious circle. I was sad.
It turns out that in my first topic I deceived you. Weighed not 55 kg at all, but 53 kg 300 g. True, from this I personally did not feel better. Weight less than I thought, but I feel not comfortable. It's hard for me to wear my plump-flabby belly and big thighs. Heavily.
After four to five days, I, having limited myself in various sweets and delicacies and started to run, rang. It turned out that I weigh 52 kg 800 g. Oh, how much joy there was! I thought: Everything! Now I will turn mountains! But you understand that this part of the story will end not the happiest?
Somewhere I had a little loosened grip, somehow was too lazy to go out and run, and here he is … The result is in the form of 53 kg 400 grams returned. Also threw myself too much. As it happened, I can not understand. But my weight and the silhouette of the figure does not suit me at all … you need to lose weight. On the other hand, why?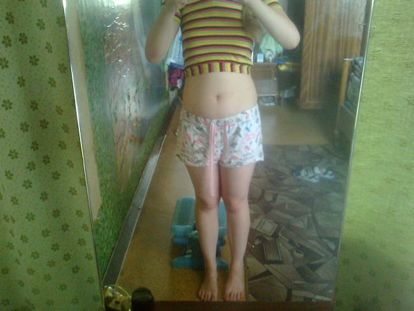 And then. The reasons are. More precisely, the goal. Without them nikah. If the goal of losing weight is not (adequate and causal, and not fictional), then there is nothing to lose weight.
I have causal purposes There are. Real. And for me they are very important.
Goal one: Feel more comfortable and confident. If (when) I have a dream body, I will feel in communication and on a personal level (internally) much better. A beautiful figure is what I lack for absolute self-confidence. Trifle, is not it? 🙂
Second goal: I feel just wonderful in front of the camera, but discomfort is caused by extra pounds and absolutely unnecessary fat. I want to shine on the blue screen, which, alas, has the property of filling everyone who is in it. Soon my project begins, and here I sit, I eat it. TV is a part of my life. Need to match.
Third goal: wear the clothes you want, not the clothes that hide my flaws. So that nothing interferes anywhere, does not embarrass, does not protrude and looks perfect. But I'm already tired of thinking about how I look, whether my tummy is well hidden, whether my legs are too full in these pants, etc. I'm tired! Basta!
Fourth goal: may seem a bit original and funny, but for me it is no less important than all the others. And maybe more expensive. When I lose weight and get closer to the body of a dream, I will feel my strength. After all, the worst enemy and best friend of man is himself. I want to feel a friend in me. Only you need to conquer yourself, and then new horizons will open, life will be different. At least for the sake of it is worth losing weight.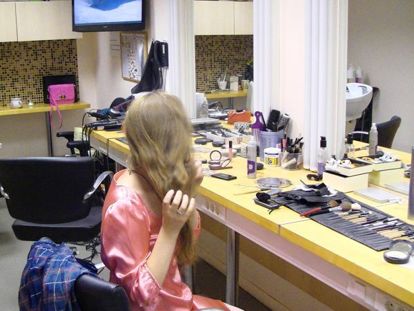 Obstacles and ways to deal with them
But what prevents me and millions of girls lose weight? (yes, I know that I need to speak only for myself, but still, nevertheless, all the same) … What? Why is it so difficult to start and so easy to break?
For myself, I highlighted the following reasons:
The first reason: laziness. Too lazy to get out of bed and go for a run. Too lazy to look at the store for something less calorie than your favorite candy. Too lazy to find motivating photos. Too lazy to wring out ten times. And the result is sad.
The second reason: lack of faith in your success. More precisely, faith is, but it is very fragile. There are no results, and immediately start to wilt. It must be constantly maintained. And for this you need to constantly work on yourself, which is not very successful. But only for now.
The third reason: lack of support. Household and friends are convinced that I do not need to lose weight at all. They do not greatly limit themselves. And one in the field is not a warrior. Although … It's all excuses.
Reason Four: too strong swing. It has long been understood that you should not promise yourself two months to keep on diets and play sports. Better 3-5 day courses. Give yourself to hold out this time, then more and more. All gradually. Then it will not be scary.
By the way, I had an interesting thought with which you may not agree. Strongly full girls are easier to lose weight than those who have a maximum of 10 extra pounds. Because the latter can console themselves. Like, they are not so far from ideal. And to lose a few pounds to the body is very difficult. They do not pull him too much. Although this is only an appearance.
And returning to the mini-courses, I note that I decided to lose weight that way. Now I set myself the task to hold out for the next five days. And this prospect does not scare me. It seems so little time … Of course, then there will be another mini-course and more, but for now I'm thinking about the first stage, in which I:
1) I will drink 8 glasses of water daily.
2) I will do morning exercises. (standard set).
3) 2 times go out for a run.
4) I will limit myself in sweet and flour (I will strongly limit).
5) I will restore the mode (to go to bed no later than 23:30 and get up no later than 9:30. Just now is a vacation)
6) I will have dinner three hours before bedtime.
7) I will think over the system of losing weight. That is what to do next.
Exactly in five days I will present my results to your strict court, and they will certainly. I promise you that. Already five days I will definitely hold out 🙂
How do you lose weight or lose weight? Are you able to restrain yourself? What are your goals and motivation? Believe in your dream? Tell that!