I never liked to run! Never ever. At school, in physical education classes, I barely ran standards. My side was always sore when I ran, my breath was lost. And now I am preparing for my first 21.5 kilometer long marathon.
How I started running
I started to run in the gym, on a treadmill. But it is hard to call it a run, I could only master 5 minutes at a speed of 10 km / h, then I moved onto a step. I had the same problems with school, pain in my side, rapid breathing. Therefore, I never wanted to run, especially long distances. I was quite satisfied with such cardio loads, like brisk walking and exercises on an ellipse.
A few months ago, I met a man who is 16 years older than me and who runs half-marathons every six months. According to him, participation in the half marathon is like a big party. People are seriously preparing for this event, they are intensely engaged. In general, it is very motivating when you run for a reason, and to participate in such a public event as a half marathon.
After the last half-marathon, which was held in May, I congratulated my friend on another success, and he said: You just have to participate in this too, you can. I wondered if I could? I started to run.
The worst was the first time. I got on the treadmill and ran. And so the first psychological 5 minutes passed, after which I always switched to walking. I continued to run, after 5 minutes I fell ill with my side … Oddly enough, my side stopped hurting myself after about 10 minutes. That first time, I ran 40 minutes without stopping. I realized that I can run, but I have to train.
The first half month I ran only on a treadmill, I was afraid to go out. I understood that sooner or later I should go out. My first race on the street upset me – I ran only 6 km, I was terribly tired. In contrast to the gym, there was a wind outside, it was hot, there were people who interfered, there was a lot of things that distracted me. After this incident, I had no idea how I could run more.
Last week, I again went to run on the street. That time I ran 9 km. In a week – 12 km per hour. This is a great speed for a half marathon. Yesterday I ran my first 15 km. Before the event, another 2.5 months, so I will train, train.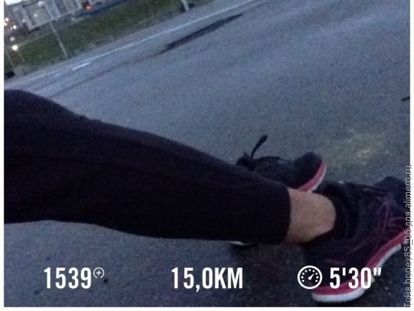 This feeling when you overpower yourself is incomparable to anything else.
How do you feel about running? Are there runners with experience?