After giving birth, I recovered very much. And summer was approaching, and I, of course, wanted to show off as before on the beach in a bathing suit. But in my current form there was absolutely nothing to flaunt. And I decided to act.
To begin, I went on a diet, but the process of losing weight with just one diet could take a long time. And I wanted to achieve quick results.
It was clear that the exercise must be connected to the diet. But since I had never practiced fitness before, I simply did not know where to start.
The option of going to the fitness center was dropped immediately, as I had a small child in my arms who could not be left for anyone.
Then I decided to search the Internet for home workout options. Having driven the phrase fitness at home into the search engine, the first thing that showed me the screen were the programs of fitness trainer Gillian Michaels. So began my acquaintance with the fitness guru, as it is called.
It turned out that home workouts are now incredibly popular. And first of all due to the fact that they are very simple and intelligible, but at the same time effective.
After reading the relevant thematic sites and forums, I learned that there are many different programs designed for different levels of training and different muscle groups.
So, those who are just starting to get acquainted with the world of fitness, it is recommended to engage in the course of a Slender figure for 30 days. I chose him as my starting program.
As the name implies, the program is designed for a month of daily workouts (you can, however, do it less often – 2-3 times a week, then the course can take 2-3 months).
Training Equipment
Before I started my studies, I needed to stock up with props. First of all we need dumbbells. If you have never worked with them before, then it is best to take a pound of weight. Since dumbbells weighing 0.5 kg are too light and do not give the desired effect. And with large weights – 1.5 kg and more – it may be too hard to be used to it.
You will also need good sneakers for training (you can't do barefoot, because there are a lot of jumping exercises in the program, and you can injure your knees without an appropriate shoe). And you need a chest-top sports top (all because of the same jumps the chest must be securely fixed).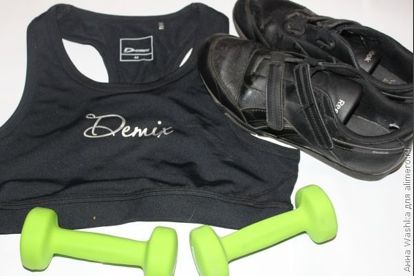 What is included in the course?
Course for beginners A slender figure for 30 days is divided into 3 levels of 10 lessons in each. The first 10 days are the easiest. In them we are introduced to the basic exercises. Then follow more complex tasks.
Interval training. That is, warm-up first follows, then two minutes of cardio exercises (jumps), then strength exercises, again cardio, then exercises to develop the press, again cardio, and so on.
The duration of the entire workout is only 30 minutes. But since it is very intense, during this time seven pots are coming off. But if you go through the program completely, the effect will not take long.
As a result, by the summer I still lost about 7 kg and was able to climb into my favorite swimsuit!
Of course, at this time I was not only doing physical exercises, but also eating properly. However, training, in my opinion, made quite a significant contribution to the achieved result.
Do you do fitness at home?