All my life I have faced the problem of excess weight, but for some reason I lacked the strength of will to fight him all the time. I have lived for a quarter of a century and have already begun to face serious health problems. Starting with pain in my legs, back, heart, eerie shortness of breath and ending with the fact that my ability to get pregnant was reduced to zero.
And finally, day X came! I went to the wellness club of my city. Wellness life involves an integrated approach to physical and emotional well-being: regular physical activity, body care, stress relief and proper nutrition. An integrated approach is one of the fundamental points to a successful result in weight reduction.
The first is nutrition. The change in the way of eating took place gradually. Only in the opposite direction. At first two weeks were the toughest in food: kefir in the morning, at lunch vegetable salad or stew, for dinner also vegetable salad or stew and be sure to cottage cheese, since I worked in the gym, it was necessary to replenish the protein in the body.
During the day, three apples were eaten until eight in the evening. Also bran was one of the secrets of my diet! They are sold in a pharmacy. It was possible to eat them in unlimited size, but despite this a lot of them cannot be eaten 🙂
The diet is not diverse, but the amount of food was more than enough to feel full all day long (and by the way, do not forget to drink water all the time. This should be done all the time. I always have a bottle of water on my desktop).
Later on, cereals, lean meat for lunch appeared in my diet and you could eat grapefruit or kiwi instead of apples. And another important point in the style of my food was that once a day you could eat any forbidden product, but the size of a dice! Thus, I made it clear to my subconscious that I am in no way limited in food.
The second is physical activity. Be sure to need physical activity. I had this strength training, which was aimed at working the muscles. When the muscles work, then it starts to burn fat. Next cardio is an exercise bike, treadmill, ellipse. And the last is group classes – yoga, Pilates, soft stretching, swimming pool.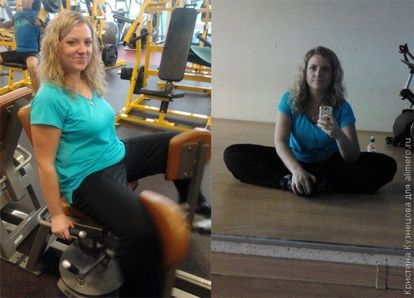 The third is the constant replenishment of the baggage of knowledge. And not only in the field of weight loss methods, but also in the field of a different way of thinking, understanding the meaning of life, opening new horizons.
By such non-clever methods I have come to the results that I have now. And insanely happy about it.