I suffered from overweight since childhood. I can not say that I had a lot of it. With a height of 155 cm, my weight was about 58 kg. Perhaps if I were taller, these pounds would not be so noticeable. I could only dream about the ideal parameters.
Even while studying at the institute, I tried to lose weight with the help of various diets. But, like most girls, it was already broken after a couple of days of low-calorie meals. I managed to lose weight only after the birth of my daughter during breastfeeding, and then, not for long.
Just a month after weaning my daughter from the chest, my weight became more by a couple of kilograms. Six months later, I could only dream of the former weight of 58 kg. Each weighing brought me into a state of despair, because the scales were 63 kg.
For the first time in my life, I decided to act rather than feel sorry for myself and seek excuses. Since I knew from my own experience that I would not be able to give up my favorite sweets, I made up rules that I intended to follow in order to lose weight without changing my usual way of life. Here is the plan:
1. Sweets afford in any quantities until 12 o'clock in the afternoon. After this time, if the body requires tasty, eat dried fruits or candied fruits.
2. Before each meal, drink a glass of cold water. Thanks to this simple method, not only the appetite is reduced, but also the condition of the skin is improved and the metabolism is accelerated.
3. Smoked, fat and fried eat in small quantities and only in the first half of the day. The only thing that I was going to exclude completely was sausages and mayonnaise.
4. Remove harmful snacks. If you are hungry, allow yourself to eat an apple, cucumber, or low-fat yogurt. Better yet, drink a glass of water.
5. Dinner until 19.00 light vegetable salads.
6. Every day before bedtime, do physical exercises (the most simple – squats, bends, press).
As you can see, I left in the diet and sweets, and flour, and fried foods. Refusal of mayonnaise and sausages was due to the desire to eat healthy food, and not the desire for weight loss.
Honestly, at first it was not easy to follow the rules. I started a diary, where I recorded the time and description of each meal. I highlighted useful products in green and harmful ones in red. There also recorded all the useful procedures for the care of themselves, which performed during the day. Here is an excerpt of my virtual diary: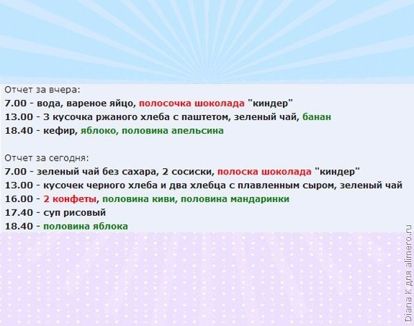 After a couple of weeks, I noticed that following the three rules is not as difficult for me as it used to be. Putting off sweets and other goodies in the morning has become my habit, which I have been following for more than two years. And the hula-hoop became my reliable helper in keeping fit.
My weight loss can not be called rapid. It lasted about seven months, but since that time my weight has been kept at around 52 kg. That's how my weight loss story ended.
And what rules of nutrition do you follow?