I have already told in my past articles about how I managed to gain as much as 18 kg during pregnancy. The most interesting thing is that I was heading to the hospital with the certainty that I would leave almost all the excess there. In any case, my friends told me so.
The first days after birth, I myself seemed such a feather! I saw the truth when I looked through the photos from the statement. A round, even swollen face, terrible folds on the abdomen and very broad shoulders – this is the first thing that struck me.
Probably, many are familiar with such a concept – jamming stress. After what I saw, I began to eat. Much and often. Got a few pounds, understood all the terrible things happening, quietly hated herself, but she didn't have enough strength of will to limit herself in the sweet and the bad.
And here it is – a turning point. I realized that if I do not take myself in hand NOW, it may be too late. I got a food diary. For every mistake she scolded herself. Many walked with a stroller in quick stride.
For some reason, I immediately imagined myself a great athlete, I found a sports program for Jillian Michaels on the Internet and started to practice it. Already in the 10th minute, I realized that I could not move my arms or legs. The load was obviously too difficult for such an athlete who had swum fat.
Then my friend advised me to do callanetics and gave a link to the video with trainer Tatyana Rogatina. How I liked the lesson! Here is just one problem – on the second day I could not move again.
I realized that the load should be increased gradually. I did not look for ready-made exercises. I made myself a program myself, given the fact that I have a small child.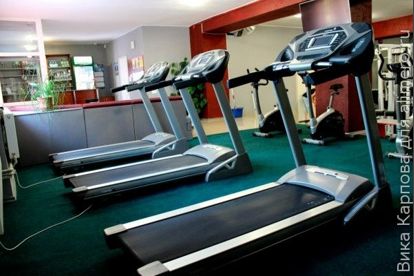 Knowing that the press cannot be rocked for the first time after birth, I chose the slopes and the birch for myself. Many times in one approach it was hard for me to do, so I tried to do more approaches with a small amount of body movements 🙂
They didn't recommend to turn the hoop either, but I just adore this activity, so I devoted 5 minutes a day to exercises with the hoop.
During the games with the child, I was also engaged. She lay on her back, legs raised up and bent at the knees. She put the baby on her shins, held him and slowly unbend and bend her legs. Very good exercise, I tell you!
It was not easy to find time for classes. Husband laughed at me, and my mother said that I was engaged in this nonsense. In her understanding, a married woman, and especially a mother, should look weighty, and not as a teenager.
So that no one bothers me, I started to leave the house … for a run. Thus, I rested from everyday life, and put the figure in order.