I recently heard this wonderful phrase and realized that it applies literally to every area of ​​our life. Literally this weekend, I applied it to my next insane act – a marathon run on a cool summer night.
What it is


For those who do not know, I explain, the marathon is 42 km 195 m. It was just as long that an ancient Greek from the city of Marathon to Athens ran without stopping to announce the victory of compatriots over Persians. He ran, said, and died there.
Therefore, it was ridiculous for me to hear the excuses of amateur runners from participating in the race: Ta, well, after a runner died in Kiev this year, I'm afraid to participate in this. As if this distance is to blame for the fact that a person set himself too high a bar compared to his level of preparedness.
Moreover, this marathon is a night one. We start at 12 at night, so it's not hot at all. 10 laps on a flat road along the embankment – solid romance.


And how it ran
This is my second race at this distance. Last year I participated in the same race and traveled 42 km in 4 hours 55 minutes. And this ran exactly an hour longer! There were a lot of reasons for such a rollback.
Last time I was still in stress after my husband left, and on adrenaline, it ran faster. Now, even though the husband, with his passion, also participated in this race, I somehow did not care for them. Happiness is not in the end, happiness is on the way, I thought, and I ran along.
But on the second lap I understood my main mistake. Back at 8 pm, I suddenly decided that I needed carbohydrates for such a load and ate a portion of instant pasta. They, of course, not meat, digest faster, but not as fast as I thought.
Shortly after the start, I felt about where and how they lay in the stomach, and then the whole distance, for 5 hours I was communicating their movement through the intestines. And after all, she knew that it was impossible to eat 8 hours before the start! In general, I felt how hard it was for the body to simultaneously digest food and perform physical exertion.
Well, and, of course, affected my level of training. At first, I started to prepare too quickly, and two weeks before the start I stopped training, because I didn't have the strength and wanted to sleep all the time.
As a result, at a distance of the last two laps, I desperately fought with the desire to roll into the bushes and give everything to the world. And the latter generally hobbled about 40 minutes, as the legs were barely carried. Kept on the track only by volitional effort and the thought that she promised the child to bring a medal.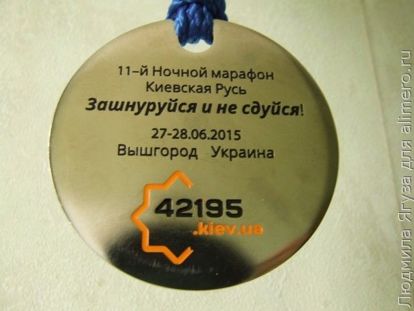 It is incredibly pleasant that they were waiting for me at the finish! Last year, only a medal was presented, and I barely managed to save my portion of sausages from sacrifice to local dogs.
This year, I was waited by a huge support group of totally unfamiliar people who gave me water, supported, praised and took pictures together. Thank them so much!
Why am i doing this


Firstly, such stresses are needed by the body and the brain so that it can be fixed on a subconscious level that I can overcome enormous difficulties. Such a success in the treasury of experience. Secondly, often it helps to rethink some of their installation.
This time I finally understood, not only with my head, but with all my fibers, that it was necessary to leave the comfort zone gradually. It's necessary to prepare for the race not for a month, but for the whole year, little by little. I understood this before, but did not do it. And now some deep understanding of the process has come.
So if you want to grow above yourself, challenge yourself! Think and analyze your states and thoughts.