I really like green tea. Perhaps this is why I do not know the problem of excess weight. Of course, the reason is not only in this drink, but in the fact that in general my principles of nutrition are close to ideal. But to deny the beneficial properties of green tea is meaningless.
Both green and black tea are one and the same plant, the only difference is in the processing of tea leaves.
Unlike black tea, green is not fermented. That is why the amount of nutrients in it is much larger, and in terms of the content of vitamins, it does not lag behind many vegetables and fruits.
For example, B vitamins are not destroyed during processing, and there are a lot of them in green tea. Also in this drink contains vitamins C, K, P, PP, minerals potassium, fluorine, boron, barium, zinc, copper, aluminum, manganese, cobalt, molybdenum, chromium. Oddly enough, green tea even contains protein, about the same amount as in beans and lentils.
Green tea also contains antioxidants, which are responsible for protecting cells from aging, speed up metabolism, and even burn fat.
Green tea perfectly reduces appetite much better than ordinary water. I seldom eat breakfast; I have enough 2-3 cups of freshly brewed green tea. Another cup around 11 in the morning – and before lunch I have no feeling of hunger.
I also often drink this drink about half an hour before a meal – this is how the body's metabolism is activated. Yes, and the portion size has to be reduced, because the feeling of hunger is dulled.
Green tea is often used during fasting days. Sometimes I only drink it all day, clean water and eat light food – vegetables and fruits. This discharge is very useful for the body. There is a disposal of slags, toxins, salts of heavy metals. Tea activates the processes that are responsible for their elimination.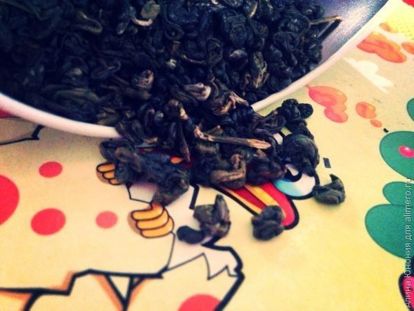 Do not forget that green tea lowers blood pressure. Therefore, hypotensive them should not get involved. When I did not know about it, I used this drink in unlimited quantities and once I drank myself unconscious. Apparently, the tea was too strong, and its quantity was unreasonable.
Also, you can not combine this tea with alcohol, it is harmful to the kidneys. Contraindicated drink and those who suffer from peptic ulcer diseases of the digestive system and have problems with the acidity of the stomach.
Do not add sugar to the drink. Green tea contains a lot of fluoride, which is very useful for tooth enamel and can even eliminate caries in its early stages. But in combination with sugar, tea has the opposite effect – it destroys enamel.
There is no less caffeine in green tea than in coffee and black tea. Therefore, it should be used with caution in pregnant, lactating and children.
How to drink green tea
It is best to use leafy green tea without any additives. The quality of tea bags leaves much to be desired. Open the bag and you will see that there is a cross between dust and debris inside.
It takes about 5-7 minutes to brew tea in a kettle, cup or press. Usually enough teaspoon of dried leaves per liter of water.
You can diversify the tea menu by adding ginger root, mint or lemon slice to the drink.
Regarding the optimal temperature and methods of brewing theories, there are many. On the one hand, there is Eastern wisdom. Cold tea is like snake's poison, and on the other hand, the theory that a chilled drink has bactericidal properties and rinsing is very useful.
Also, some sources recommend to pour out the first brew, and drink the 2nd or 3rd. Personally, I always drink only the first, and for each next time I brew fresh tea.
Of course, green tea is only a supplement to proper nutrition. Losing weight is possible only in conjunction with exercise, calorie control of food and lifestyle in general. And green tea will only help you with it, try it!
Do you drink green tea?