I once mentioned how I lost weight from pregnancy from 71 kg to 58 kg, and running in this business played one of the most important roles. So, z decided to tell about their relationship with him and what they led to.
I didn't like to run since childhood. Thanks dad. In his desire to involve me and my sister in a healthy lifestyle and spend more time with the children, he drove us to frenzy. Every morning we woke up at 06.00 and after 10 minutes we had to run to the alley.
We lived in the center of the city, the places were picturesque. But when you are still asleep, and you are being driven in the back in the army, this is just torture. We didn't even know about the technique of running. And if you woke up when you forgot to wear a bra, another irritating factor was added. In the end, my father got tired of fighting us.
Running youth
When I began to live separately from my parents, I tried to do this thing on my own. Knowledge, of course, was not enough, there was one desire. She ran mostly after work, not regularly and not more than a kilometer. There was little confusion, of course, but it was better than nothing.
Then I met my husband, and jogging, at least, became regular. In addition, I finally learned that there is a special running technique that protects your knees from injuries and allows you to improve your results. Now I ran already for 3 km.
Running mommy
After pregnancy, when I decided to return to training, my first race through my home stadium ended 700 meters. I was shocked! It feels like there is still potential somewhere deep inside me, but for some reason my legs do not carry and the lungs refuse to work. And I started training.
She came out with a stroller, let the baby rock, put it in the tenek – and wrap the circles herself. At first I gave myself the installation – to reach a kilometer, then I increased the requirements to two, and with time to three. The task – even with cancer, even sideways, even crawling, but to go the distance. When she became surmountable for me, she began to work for a while.
So, in about a year and a half, I went 5 km away, losing 8 kg. And then my husband became interested in competitive races … In general, having become infected with the idea, for the first time in my life I decided to try myself for a long distance.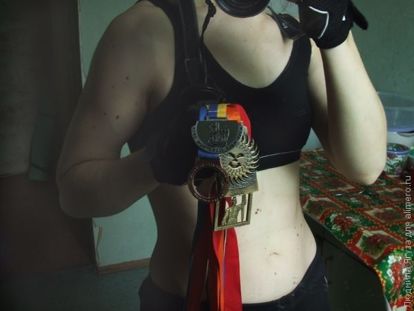 Who lives in Kiev, imagine the distance from Mikhailovsky Square to Shevchenko Boulevard, and from there on a straight line to the metro station Beresteyskaya. Then back through Victory Square, Saksaganskogo Street, Khreshchatyk to Maidan and back along Khreshchatyk to Lev Tolstoy metro station. There, on Vladimirskaya and back to Mikhailovskaya Square – only 21 km 195 m, half-marathon distance.
I overcame her in 2 hours and 29 minutes. Then another month was limping on both legs, while the ligaments recovered. But it only inflamed me even more! About a year later, not forgetting to train, of course, I again went to the race – the night half-marathon Kievan Rus. Starting at 24.00 and running for 2 hours 26 minutes along the Kiev reservoir is a fairy tale!
This time I recovered already in 2 weeks. Therefore, I went without hesitation to the next winter half marathon in December, although I didn't fully prepare for it.
In general, now I am addicted to this case irrevocably. I have already planned 5 races for myself this year: one trail for 10 km, a high-speed race through the Carpathian mountains for 16 km, two half marathon and one marathon. And may the force be with me!
Are you weak? I'm sure not!