Almost all of my classmates at school had nicknames: someone was given a nickname by name, someone deserved it by some act, someone had an unusual appearance. And they called me just fat. It really offended me, because in reality I was just plump, not fat at all, however, as luck would have it, in our class all the kids got very thin, even skinny.
I did not suffer for long, because from the first class I began to study very well, I was the best student not only in the class, but in the whole parallel, I won some authority, we can say, and stopped calling me. Psychologically, I was comfortable, but my appearance did not suit me. I really wanted to lose weight.
Ask me then why, I could not answer, I just wanted to be like everyone else. I tried different diets, but I had enough for a week – no more, especially since my mother, as a doctor, was categorically against various diets, claiming that they were harmful to a growing body.
I managed to lose weight only on the 3rd year of the institute. It happened quite unexpectedly. Once (it was September) mom and I went to buy some clothes, and one nice dress caught my attention. The dress was presented in a single copy of 44 sizes.
I showed my mother this dress, saying that it is very pretty. My thoughts were not to buy this dress (because at that time I was wearing size 50), but for some reason my mother decided that I wanted to buy it, and said that if I could even get it on myself, it will immediately burst at the seams.
I don't know if I really liked the dress, or if my mother managed to hit some chords in my soul, but I decided that I would definitely wear this dress.
I had some savings, and the next day, without saying a word to anyone, I bought this dress. I decided that I would celebrate New Year in it. I have a goal. Reaching it was not easy. But in what way? The variant with the diet did not suit me: the load at the institute was too intense, and the malnutrition did not promise me anything good.
I began to download the press. Every evening, when the feature film began, I spread a rug in front of the TV and did the same exercise: from a supine position I would rise, holding my hands behind my head, into a sitting position.
In the first days I barely managed for an hour and a half (it was the film that went so far) to master 10 such climbs. But after a week I began to increase the number of lifts every day, and the next day I definitely did not less than the previous day.
I didn't say a word about the dress to anyone, but when it was very hard for me to force myself to take another climb, I remembered the dress, and at once strength was taken from somewhere. By the end of the month, the number of rises increased to 100, I began to lose count, and, in order not to count myself, I began to use matches.
Having counted 100 matches, I poured them near the mat where I did the exercise, and after each lift I put one match in the box. The number of matches increased every day.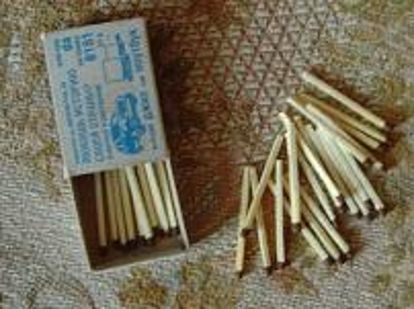 The results of my exercises began to be clearly felt in a month: the skirts became freer, and the jeans had to be sutured at all. For me it was a great incentive, but the dress was still not enough. Parents who, of course, knew about my exercises (often we watched films all together, only they were on the sofa, and I was on the rug), they began to suspect that I was struck by Cupid's arrow.
By the end of November, the number of lifts reached 300, and I began to wear 46 size clothes. I didn't increase the number of exercises anymore, when I felt that a further increase in my ascents was meaningless, but I continued to beat the bows every day (this is how my parents started to tease me).
When the New Year holidays were approaching, my mother suggested that I buy a new dress in which I could go to the evening. I told my mother that the dress had already spied on herself, and I would buy it myself.
I put on this dress only on December 31, when I was going to go to the evening with my fellow students. Stepping out to my mom, I waited for her reaction. She did not recognize this dress! She said that the dress was pretty, but I was a little too big! I was a little disappointed, I really wanted my mother to remember this dress, but the New Year was coming, and I didn't spoil the mood for myself or her. That New Year's Eve I felt great, because I managed to fulfill my dream, in 4 months I lost weight from size 50 to size 44.
And physical exertion in the evenings became just a necessity for me, and then for another three years, I regularly bowed every evening in front of the TV while I watched a movie. Naturally, I was in great shape! And I made for myself the following conclusion: the main secret of effective weight loss is the presence of an incentive!