Not so long ago, I wrote a topic about how apple vinegar can be used for weight loss. And today I want to talk about another tool for the same purpose – linseed oil.
Immediately make a reservation that you can not replace flaxseed oil with any other! Or rather, your will – you can use anything instead, but then you should not wait for the promised result. Because each type of vegetable oil has its own characteristics.
Useful properties of flaxseed oil
Flaxseed oil contains many polyunsaturated fatty acids, vitamins A, E, K and B group, potassium. Among other edible oils of plant origin, flaxseed takes the first place in terms of biological value.
Its use improves metabolism, reduces cholesterol levels, makes blood vessels more elastic, helps to normalize hormones.
Slimming with flaxseed oil
Lose weight with flaxseed oil can be different. It all depends on your desire – how quickly you want to get the result and which one. I will give two options.
If you want to clear the intestines of toxins, you have 2-3 months to implement this plan, and the desired weight loss is 2-3 kg, the option is perfect for you! As a bonus, you will also find an improvement in skin and hair, strengthening joints.
So, flaxseed oil should be taken twice a day – in the morning, on an empty stomach, 15-20 minutes before breakfast and in the evening, at night, 15-20 minutes after dinner (last meal).
The amount of oil should first be 1 teaspoon (in one step), then gradually increase to 1 tablespoon, then slowly returning back to the original rate.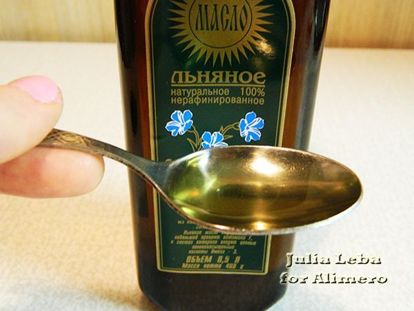 Of course, you should not lean on the sweet, floury, fatty during this period. Eat as before, or a little stricter.
If you decide to go on a diet, the result of weight loss is needed up to 5 kg, and the time is only a week, this option is for you. The diet is quite diverse, but clearly spelled out. The scheme of the use of linseed oil – the same as in the cleansing. Exercise during the diet – welcome.
savory coffee; boiled egg; grapefruit; 125 g low-fat cottage cheese with a spoon of 10% sour cream; 100 g of boiled fish; unsweetened apple compote; 3 walnuts; 0.4 liters of skimmed yogurt.
green tea without sugar; toast with a thin layer of butter (no spread!); 5 olives; dietary soup; fruit / berries; 400 g low-fat cottage cheese.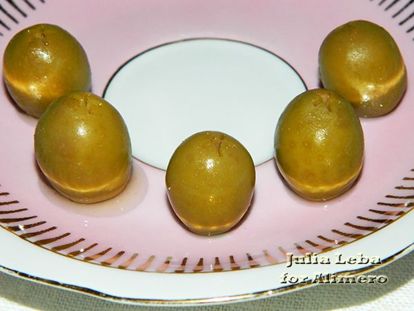 black coffee without sugar; banana; oatmeal with raisins on water / dietary milk; grated carrots with false 10% sour cream; sugar-free compote; 100 grams of boiled meat; a tomato; leaf salad; 150 g of cottage cheese 3-6% fat from 1 tsp. honey an Apple.
tea without sugar; two egg omelette; 50 grams of cheese; avocado; cucumber; radish; 200 g of vegetable cabbage; mineral water with lemon juice and slices of oranges; 150 grams of fruit salad (do not use bananas!); 1 cup of kefir / ryazhenka / varentsa.
unloading – you can choose any: apple, kefir, cottage cheese, carrot or other.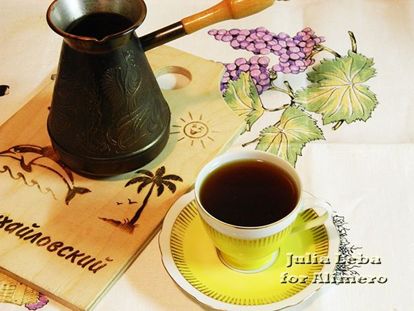 sugar free coffee; 200 grams of buckwheat porridge with raisins (without milk!); vegetables; greenery; fruits; 200 grams of lean borscht; 100 g boiled chicken breast; pine nuts; 250 g nonfat cottage cheese.
green tea / mineral water; 200 grams of rice with fruit (no sugar!); grated carrots with raisins; small grapefruit / orange; 200 grams of lean soup; 100 g boiled mushrooms; 1 glass of freshly squeezed juice (fruit or vegetable); 150 g low-fat cottage cheese with berries.
Flaxseed oil in limited quantities can be added to food. Recommended for salads, cottage cheese, porridge. I have not tried it with cottage cheese and cannot even imagine … for me it is unlikely to be delicious))
But in the salad – very much. In the post I like to add flaxseed oil to buckwheat. Porridge seems to be empty, and acquires an interesting taste with a hint of walnuts.
Store flaxseed oil in the refrigerator!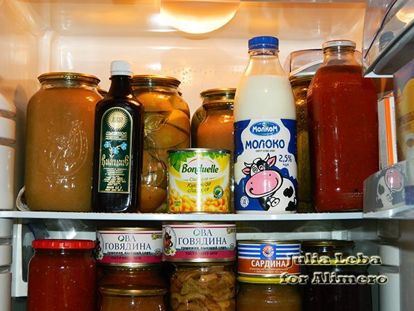 Contraindications
Like any effective tool, flaxseed oil has contraindications. These include:
– acute chronic pancreatitis, enterocolitis
– problems with the pancreas
– problems with biliary tract, including cholelithiasis
– poor blood clotting
– tumors of the uterus, appendages, cysts
– bleeding with polyps
– taking oral contraceptives
– antidepressants, antiviral drugs
– cholecystitis (diets are contraindicated, only taking with meals)
– hypertension (allowed under medical supervision)
And how do you use flaxseed oil?