A beautiful figure, including a flat and elastic belly – the dream of every girl. Soon we are going on vacation and, of course, I want to lose some weight, but it is more important to make the figure more fit. So, it's time to get ready.

Proper nutrition
To bring the figure in order, special attention should be paid to nutrition. I have long been sticking with the -60 system, which I wrote about. But lately, too much loosening has begun. If I want to boast a beautiful figure, you need to make the diet more rigid.
Now I eat more vegetables. It seems to me that in the warm season it is not at all difficult to do this. I practically excluded meat from my diet, I had eaten it a little before, and now I'm completely trying to do without it.
Now I'm trying not to eat sweets at all. For me, this is the hardest, but the dream of a flat tummy helps to overcome the desire for tasty food. If possible, replace sweets with fruit.
And she also included low-fat kefir in her diet.

Sport
I am not friends with sports. But light exercises force myself to perform daily. As a rule, I shake my press in the evening. I started 10 times, now I easily do 50 pull-ups.
Morning begins with a children's charge. I also do warm-ups with my children. Then I do some exercises for the abdomen.
For example, I like this exercise. You need to lie on your back, bend your legs at the knees and lift, your hips touch the abdomen. Now you need to strain your muscles, lift your ass, and pull your knees up to your shoulders. I repeat this exercise 8-10 times.
I also do an exercise like birch. Lying on your back you need to raise the legs perpendicular to the floor and cross them. Stretch your arms along the body, and relying on them you need to raise the pelvis, remaining in this position as much as possible. I repeat it also 8-10 times.
I do a minimum of exercises, but I try to move more. If the weather is good, I walk a lot with the kids. In the meantime, kids are sleeping, twisting hula-hoop for 15-20 minutes.
Well, if after exercise or walking there is an opportunity to take a contrast shower. It tones the skin, and during the shower you can massage the stomach or other problem areas.

Cosmetics for a flat belly
Could there be a miracle if you just spread the cream on your belly and it will become flat and elastic? If you believe advertising – yes, but I think that this is impossible. Of course, if you use a cream, as well as diet, do exercises, then the effect will be.
If desired, you can purchase creams that make the skin more elastic. But simple use of cosmetics is not enough. By the way, there are special tools that improve blood circulation and remove excess fluid from the body.

Folk remedies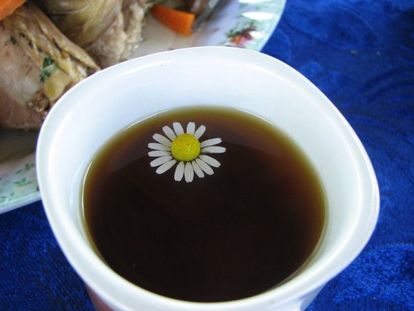 And as always, I resort to folk remedies. Of course, decoctions by themselves will not make the stomach flat and elastic, but in combination with the exercises, their reception will be very useful. All the necessary ingredients can be purchased at the pharmacy.
I make such a decoction. I take 2 teaspoons of valerian root, 3 teaspoons of chamomile, 5 teaspoons of cumin fruits, mix everything up. Then I brew a tablespoon of the mixture with 2 cups of boiling water, cover and insist for 30 minutes.
Broth drink half a glass in the morning and evening.
You can use honey, which is diluted in water and drunk on an empty stomach. Honey removes toxins, strengthens the immune system.
My struggle for a flat and elastic belly has just begun, I will be glad if you share your secrets of a beautiful figure.