When my daughter was given a fitball for a birthday party, I still did not know about its indisputable benefit to the body. It was perceived as a normal ball, only of a large size. Later, watching my daughter's frills on it, I became interested and began to search for information about fitball and its application.
As it turned out, practicing with it effectively affects not only all muscle groups and posture, but also trains the vestibular apparatus, as well as helping to get rid of extra pounds and cellulite. All this knowledge about the miracle ball was useful to me after the birth of my second child.
It turned out that I could not get into my favorite dress, and most of the things I became small. Diet – a diet, but to improve the results, I tried to use a few simple exercises with a fitball. After a month of regular classes, the result pleasantly surprised me.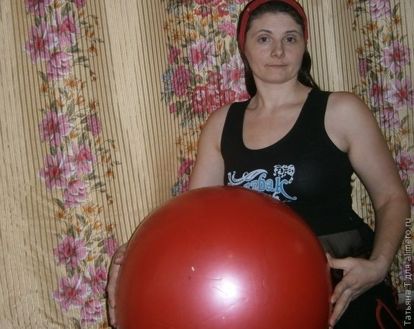 Make the right choice
I worked on the already existing, daughter ball. Its size suited me perfectly. If you are only going to buy fitball, be guided by this correspondence:
1. For girls with a height below 165 cm, a ball with a diameter of 55 to 60 cm will do.
2. If your height is from 165 to 180 cm, then the size of your ball is 60-65 cm.
3. Well, tall ladies can safely choose a fitball in diameter from 70 cm.
Having decided on the size, you can think about the colors, here it is to your taste, because classes should be fun, and aesthetic, not least. You also need to decide whether to take the ball with a smooth surface or with pimples.
The latter option perfectly copes with cellulite, but it is better to work on it in thick clothes, because the sensations can be very painful.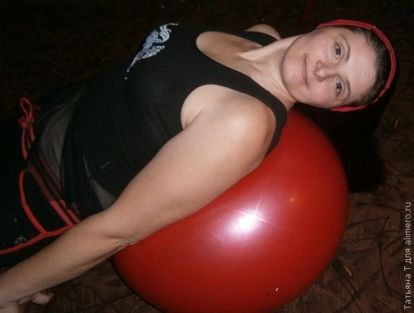 As for the exercises themselves, I will describe a few used by me. So:
1. You can start with jumping. Sit on the ball, press your feet firmly to the floor (better to do with your bare feet), straighten your back, holding the ball with your hands, jump, not lifting your feet off the floor. So you have tense muscles of the abdomen, buttocks and thighs, and this is minus the hated fat.
2. Without changing position, we rotate the body to the left and to the right, with your legs spread wider, turn your hands behind your head. From such exercises, the obliques and abdominals are tightened – hello waist.
3. Now – pushups. You need to lay your hips on the ball, put your hands on the floor (at shoulder level), start to slowly bend your elbows, until you feel the tension of the pectoral muscles. Stand still. After a couple of seconds, get up. Exercise regularly performed – the chest is in wonderful shape again.
4. Further exercises for the legs. Standing by the ball, you need to bend one leg, take it back and lean on the outside of the shin on the ball. Now slowly bend the second leg to the position of a right angle in the knee. Hold for a couple of seconds and return to the starting position. Do not be lazy – the legs will be a miracle as good.
All these exercises need to be carried out on 2-3 approaches with repetitions 10-12 times. Love classes on fitball, do not be lazy and do not drop what you started, and then your reflection in the mirror will bring only pleasure.
Have you already purchased fitball?