Today Barca has become the winner of the Champions League, and since we are now in Spain, we managed to feel the hard way about what the joy of the Spanish fans is.
Firstly, when the Spaniards score a goal, you know it, even if you don't follow the match – such jubilation is heard through all the walls and windows. When our goal is scored, however, you can hear it too – a selective stream of expletives to an amateur.
Secondly, you will learn about the victory anyway, even if you just try to hide in your house. Right now, for example, after my windows for about ten minutes fireworks are already going on. Before that, the people who were voting and the screaming cars published a Spanish equivalent to our triple hooray!
We know how to be in the right place with the right time – last year we caught the World Championship, the winner of which was … Spain. At this moment we stayed on the Costa Blanca and could not help but feel the excitement of the fans. In the cafes and restaurants on the beach were installed huge monitors, which was broadcast. The next morning she was repeated – suddenly, who had not seen.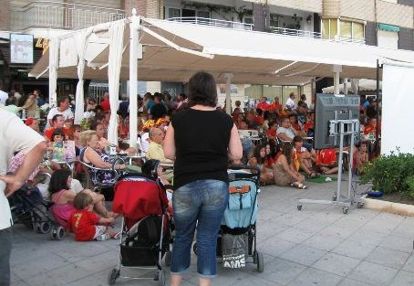 Everyone gathered at the monitors – from small to large – with national flags, in the same T-shirts and other equipment. I remember, the goal was scored by Villa, so the crowd chanted for a long time: Villa – maravilla (Villa – a miracle). Restaurants without screens were empty!
I was just putting the child to bed, when a heart-rending cry was heard from the neighboring windows: CAMPEONES DEL MUNDO! (World champions!) What began afterwards is beyond words. Now we are seeing it on a much smaller scale, but I am still glad that the child didn't sleep very well today, a siesta – the Spaniards are mentally ill, very soulfully. It is impossible not to support!