To look good and keep myself in shape, I have to constantly do exercises and do exercises for my problem areas. What I constantly work on is press and legs. If I begin to recover, the first thing fat accumulates there.
Now I will talk about the basic exercises that I do in order to tighten the inner side of the thigh. But for a start, I want to say that it is necessary to do warm-ups before performing them. It is very important!
Warm up

Warming up can be very simple. Usually, I turn on the music and start the exercise Walking on the spot. After a couple of minutes, I can jump a little on the spot, setting my legs apart, and then again bringing them together. I spend 10 minutes on the warm-up, and then proceed directly to the exercises.
Exercise number 1

To perform this exercise you need to hold on to something. I get up at the crib, it just suits me for that. You can stand at the wall or at the closet. I put my feet about 50 centimeters apart from each other, tear off my heels from the floor and stand on my toes. From this position perform deep squats.
I squat 10 times, and then, on the last squat, dropping down, I linger for 10 seconds. I try to do 3 sets.
Exercise number 2

I lay down on the floor, on my right side. I bend my right hand in my elbow and lay my head on it, and put my left hand in front of me, for support. Legs bend a little in the knees. I lift my left leg 30-40 centimeters from the floor. This is the starting position. The right leg should be raised by 15 centimeters, then lower. Repeat the lift of the right leg 30 times. On the last lift, fix the right leg and hold for 30 seconds. Do the exercise in the same way, lying on your left side.
Exercise number 3

This is an exercise from Bodyflex with Greer Childers. Starting position: I drop on the palms and knees, keep my back straight, look in front of me. I take a deep breath and puff up my stomach. Further, I make a full exhalation and forcefully draw in the abdominal muscles, trying to pull the stomach to the spine. Immediately, I lift the left leg perpendicular to the body, fix it and hold it in this position, counting to 8. I lower the leg as I exhale.
I usually repeat 5 times for each leg.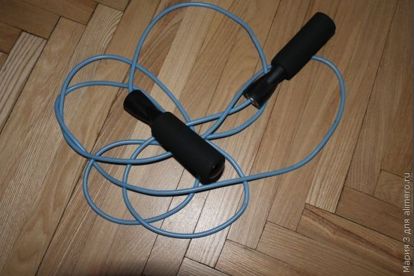 I have been doing these exercises for a long time and I can say that by doing them regularly, you will be happy with your hips!
And what exercises for the inner side of the thigh are you doing?