In all articles on weight loss and proper nutrition, much attention is paid to food, and little is written about proper and healthy drinks. I want to talk about what I drink every day, during training, after.

Herbal tea, water with lemon – the best drinks
Every day I drink a lot of fluids. I always have on my desk a glass of water, which I occasionally empty. When water gets boring, I make myself herbal tea (if in the office, then green tea). Also one of my favorite drinks is water with lemon: I put about half a lemon in a large glass, you can add mint leaves. Such drinks can be drunk without restrictions, if they, of course, without sugar.
For training, I usually take clean water, or water with lemon. In general, a lemon drink, it seems to me, has several advantages:
– perfectly quenches thirst
– contains many vitamins
– has an interesting taste (this is for those who love sourness)
As for herbal tea. After physical exertion, it is not advisable to drink tea, coffee, but herbal teas are welcome, which I use. In winter, I usually buy ready-made fees on the market. Now, in summer, I bring everything from the village. I have a whole laboratory on the balcony for drying various herbs. I think herbal tea is an excellent substitute for ordinary tea.
Infusion with ginger and lemon
There is one more drink that I make myself every day, and without which none of my mornings can do. This is an infusion of ginger root and all the same lemon. I cook it in the evening, it insists over night, and is ready in the morning. Preparing is very simple: finely chopped ginger root, lemon – all poured boiling water.
Such a drink invigorates well in the morning, improves immunity. I have been drinking it for more than a year, my health and well-being have noticeably improved – drowsiness has gone in the morning, I stopped catching cold.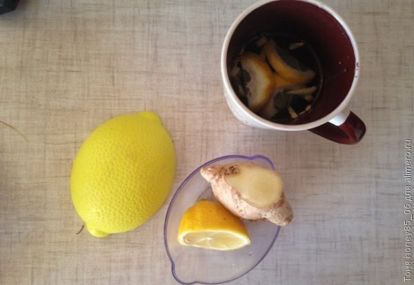 What not to drink
Proper drinks are just as important as healthy food. I have long abandoned all fermented milk products (kefir, yogurt, milk), only low-fat cottage cheese remained. Also, all kinds of juices, carbonated drinks are completely gone from my diet.
The only thing I left for myself, for my pleasure, is coffee. One cup in the morning, without sugar, is my weakness. Previously, he was supposed to have a candy, but, more recently, only coffee. When traveling, meeting friends, in cafeterias, I spoil myself with a cappuccino or latte.
Girls who follow their diet, share your recipes right drinks. I want to expand my menu). I know, there are interesting drinks based on celery, cucumbers.
Do you follow what you drink?