I bought a shower Alekseeva in one of the joint purchases. On the purchase in the store, probably would not have decided, the price at retail is almost twice as high. I thought for a long time what a miracle of technology is, what innovation, read reviews, even watched a video. Still decided, one and a half thousand in our time is not so much money, and the soul promised me millions of benefits.
About the hydromassage, I remember from my childhood, I did it several times in a sanatorium, and when I was little, I really liked it. But now to go to the procedure, too many excuses. And there is no extra money, and there is no time, and in general, not to gather. And then – hydromassage right at home, in your own bathroom. When you want, then splash.
What does Alekseeva's shower look like and what's included
It looks like a shower, of course, so-so, it seemed to me, in a Soviet way. Includes two nozzles for 19 and 61 hole. We put on 61 and more did not change. The husband said that he would not constantly change them and did not advise me not to break ahead of time.
There was an adapter in the box, but it wasn't useful to us. I understand it is needed for old shower systems. A plus was a little booklet, which I, to my shame, didn't master, although I should have. There everything is told about this soul, how to use it, from what diseases it helps.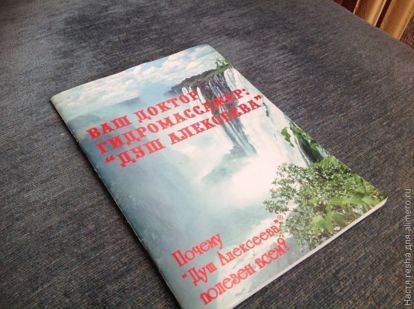 Useful properties of Alexeyev's soul
1. Ionizes the air, as I understand it, due to the high pressure of the water. During a cold and an approaching cold, I use a shower for this purpose.
2. Removes cellulite. I still have no such acute problem, but I can say that with regular use, the skin tightens and makes it smoother. Naturally, in everything you need regular use, just throw and all, goodbye, effect.
3. Helps in the fight for a slim figure, makes the contours more prominent.
4. Washes hair with even a minimal amount of shampoo. Hair becomes more shiny and alive.
5. Saves water.
6. Helps in hovering. Strong pressure washes the bath well, rinsing the laundry, if I suddenly decided to wash it with my hands.
Disadvantages soul Alekseeva
I don't even know whether these features are a soul for someone, but they give me some inconvenience.
1. Water is splashing heavily, so I'm always afraid to flood my neighbors. I bought a thicker curtain in the bath, but it still does not always help me. Who has a shower, can simply ignore this item.
2. The child is afraid of pressure and therefore we are not at all my soul. I tried to convince him with all sorts of ways. She did very little pressure, showed her delight, well, she refuses to wash in the shower and that's all.
3. Over time, began to leak. It is possible that these are also features of our system and we are so crooked that we cannot eliminate the leakage. The husband screwed something, fastened, for some time everything was fine, but over time the story repeated. But the water in our city is very bad, hard, so our souls do not live long.
In general, now I can not imagine life without this soul. When I come to visit my parents, it seems to me that their water from the shower barely flows, although the apartment has quite a strong pressure. Apparently, you quickly get used to the good.