This diet, which can be called vegetarian, I followed a little over a year. The original goal was to restore health, shaky after the disease, but along the way I managed to get rid of a few extra pounds.
I want to share my impressions, as well as talk about the pros and cons, which I discovered for myself. But I will immediately note that there were no moral and ethical considerations in my refusal of meat.
A blessing in disguise
It all started with the fact that I had a food poisoning. Late in the evening I felt nauseous, a very high temperature rose, it got worse and worse.
I still cherished the hope of recovering by the next morning and going to work. But everything turned out to be much more serious and flowed into a hospital lasting a whole week.
After returning to work, I still had a stomach ache, digestive problems did not stubbornly persist, and my condition was absolutely broken. I constantly felt weak, dizzy and nauseous.
Medicines helped only for a short time, and they also gave a lot of side effects. And I began to look for a way out, revising my culinary preferences.
Need to listen to your body
The first few days after the poisoning, due to aggravated gastritis, I could not eat anything at all, but only drank sweet tea. Then he gradually switched to cereals and crackers. But for a long time on such food, naturally, it was hard to hold out. And monotonous, and tasteless.
I began to carefully expand my diet and noticed that dairy products, such as yogurt, sour cream, butter, cheese, attracted me. But the meat did not want at all. Therefore, I decided: There will be nothing wrong with temporary vegetarianism. Why not try? I will eat only what I want.
In the end, I completely refused meat, chicken and fish. But animal protein in the form of eggs, caviar and dairy products in the diet left. Therefore, vegans would probably not have accepted me into their ranks.
I loved fruits and vegetables before that, so I didn't have to change anything here. I ate them with great pleasure. Vegetable protein, such as beans, lentils, mushrooms and nuts, was also a significant part of my diet.
Very soon, I was happy to notice that my condition was recovering.
The virtues of my diet
1. I felt a striking sense of lightness. My stomach problems and nausea and cramps after eating disappeared. I almost forgot about fatigue, on the contrary, I felt a constant surge of strength.
Apparently, this happened because the meat is much longer and harder digested by our body, for this it spends a lot of energy. And plant food, on the contrary, is absorbed very easily. That is, the body does not need to expend extra forces.
By the way, during my veterinary session I underwent a medical examination, including taking a blood test. And it turned out that the hemoglobin, the decline of which the doctors scared me, was normal.
2. Very soon, almost all the clothes became great to me, since I lost 7 kilograms, and I had to update my wardrobe. What I, like any girl, was, of course, pleased. Choosing new jeans for a couple sizes smaller is always a pleasure.
Slimming came because for me the choice of food was greatly narrowed wherever I went: to visit, to meet with friends, to a cafe or restaurant. There are usually very few vegetarian dishes on the menu. And those that are present, often low-calorie.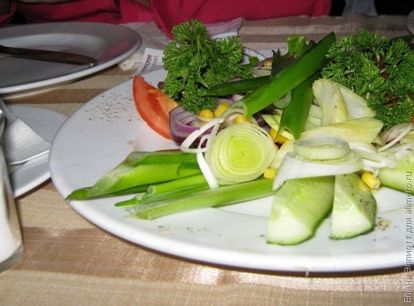 3. Vegetarianism and bad habits absolutely contradict each other: I personally have never met vegan drinkers or smokers. Here and after refusing meat, alcoholic beverages became completely uninteresting.
Alcoholic cocktails, wine and beer were replaced with fruit and mineral water during trips to the restaurant or guests.
As you know, alcohol stimulates the appetite and is accompanied by various, not always useful, snacks. Apparently, in the refusal of alcohol, there was another reason why my kilograms melted, and my general well-being improved.


And a little about the minuses
I noted two disadvantages for myself:
1. The condition of hair and nails has changed not for the better. I began to notice this half a year after the refusal of meat. It contains unique amino acids that cannot be replaced by anything, how many vitamin-mineral complexes you take.
I was once again convinced of this after returning to the previous diet: my hair became shiny again, and my nails were strong.
2. It is very difficult to explain to others that you simply do not like meat. This, of course, is a purely psychological moment, but it posed many problems.
Many were very aggressive against my vegetarianism.
For some reason, if a person does not like sweets or fruits, this is not surprising to anyone. But the refusal of meat is perceived with hostility and misunderstanding.
I was not going to become a vegetarian for the rest of my life. My diet ended as unexpectedly as it began. Again, this is unwell. It was an early spring, I had a little cold, I was nauseated, and I was surprised to find that I really wanted something meat.
Returning to the previous dietary diet was not easy. I had to get used to meat products again, as my body managed to forget what to do with them. But in a couple of weeks everything was fine.
And the most interesting is that the weight that I dropped, never returned, although two years have passed. Even a recent pregnancy has passed without a trace for the figure. Apparently, I have reached my ideal parameters: with the growth of 167 centimeters, 52-53 kilograms began to weigh.
Hence my main conclusion: it is very important to listen to what the body requires. Do not force yourself to eat what you do not want at the moment. Conversely, if you really want something, do not deny yourself this and forcibly exclude this product from the diet.
I do not urge anyone to completely abandon animal food for a long time. Each person is individual. But a short vegetarianism is unlikely to harm you.