My word diet is always associated with severe food restriction and a long list of prohibited foods. Therefore, if necessary, throw off 2-3 kg, I always try to try some new diet, which has a minimum of prohibitions.
So this time, my desire to try something new led me to a saucer diet, where, oddly enough, you can eat anything you want, but with one condition – the portion should be the size of a tea saucer. Although it is believed that this is not even a diet as such, but a transition to normal portions.
Some important tips

There are no strict prohibitions in this diet, but in order for this diet to be most effective, you need to follow a few recommendations.
1. Food intake should be 4 and they should be distributed so that between them there was no big break.
2. It is better to replace bread with loaves of bread, mayonnaise with olive oil, and margarine, convenience foods and fast foods should be abandoned altogether (and not only during the diet, but forever).
3. Drink the amount of water you need for your weight.
4. From drinks it is better to lean on green and herbal tea, as well as dairy products: kefir and ryazhenka.
5. Eat enough protein.
6. In one of the meals, the saucer can be replaced with a regular plate, provided that it contains only fresh, steamed vegetables or fruits.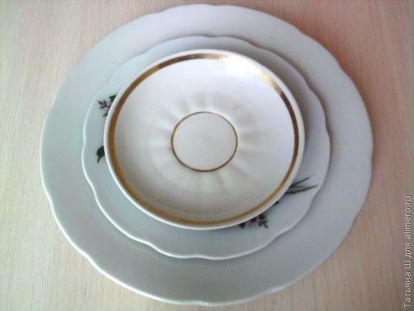 7. Sweet is not prohibited, however, for example, a chocolate can be eaten not all, but only a piece that fits in a saucer and does not look beyond its edges. And it will be considered as one meal. Although, if you wish, you can put 3 chocolates in one saucer, breaking it into small pieces, but this is not a diet at all;)
8. Physical activity is very desirable. If there is no time for full exercise, then it should be at least walking in the fresh air.
Although, as already mentioned, there are no hard restrictions, but you should consult with your doctor before using this diet.
Result

Basically, I liked the diet. Psychologically, it is easy to carry. I can say that in 2 weeks of this diet my stomach got used to small portions and there was no feeling of hunger, although the first 2 days were still a bit difficult. And the habit of eating a little bit, I hope, will remain with me now forever. Also during this time, managed to lose the planned 2 kg 🙂