During the winter holidays it is almost impossible to stick to any kind of diet. Of course, how can you not be seduced when the whole family at the New Year's table eats Olivier, fur coat and other goodies? And no one has yet canceled trips to the guests, wherever you want, you don't want to, and you have to try the hostess branded fried chicken, and marinated mushrooms, and aspic … and put another piece of cake, please.
In general, no matter how hard I tried, I did not manage to keep the weight at my pre-Christmas mark. The result of the festive gluttons became plus 3.5 kg. This means that it is necessary to urgently bring themselves into shape.
A balanced diet and long-term diets are, of course, good. But when you have to lose quite a bit and shed in a short time, you can use the express diet.
So, especially for such days I have in store a proven diet called Post-New Year. It is designed for 5 days and is designed to remove from the body all the excess that has accumulated over the holidays.
I already sat on it after the last New Year, and I liked the result then – it took 2 extra pounds. This year I decided to use it again.
This day can be called unloading. We drink only liquids: natural juice (orange, apple, carrot, beetroot, celery juice) and mineral water without gas in unlimited quantities. But it is better to distribute the reception of drinks evenly throughout the day, for 6-7 receptions.
You can not drink tea, coffee, water with gas and no alcohol, of course.
Juices can be drunk until 17.00. After this time – only mineral water.
This day is the most difficult. I want to eat terribly. And you also have to cook lunches and dinners for your home, which, unlike you, is not on a diet and they want fried potatoes and baked chicken. Oh … But will power is well trained!
Fruits are added to the drinking menu. It can be apples, pears, oranges, tangerines, grapefruits. Can not bananas and grapes.
Fruits can be eaten until 17.00. Then – only water.
How do you rejoice a piece of an apple after a hungry drinking day! But the stomach still sadly growls and asks for something more substantial. The main thing at this time – do not break!
This is a sour-milk day. You can pamper yourself with 0.5 kg of low-fat cottage cheese, 200 g of natural yogurt without sugar and 1 liter of kefir with 1% fat content. All this is evenly distributed in 6 receptions.
We continue to drink mineral water.
Repeat the diet of the first day: natural (preferably freshly squeezed) juices and mineral water without gas.
Feels like this day is transferred much easier than the first. The body has become accustomed to poor nutrition and the stomach no longer beats in hungry convulsions.
On the final day of the diet, we arrange a feast for the abdomen: you can eat any vegetables (with the exception of potatoes) in raw, boiled, stewed form, steamed or in the oven.
You can make yourself a salad of vegetables and fill it with olive oil and lemon juice.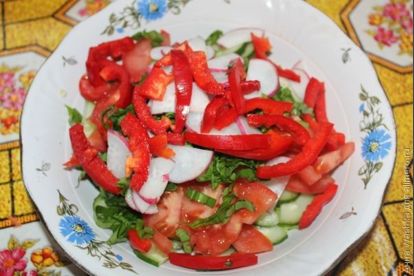 Also on this day, any fruit (except bananas and grapes) is allowed until 17.00.
From liquids – mineral water.
I was again pleased with the results: it took 2.5 kg in 5 days! Diet again did not disappoint. True, there is still one extra kilogram left, but (and at the same time maybe another 5-6 kilogram, in order to be completely slim) I will finish off with less extreme methods.